Kbilashvili Winery and Qvevri Workshop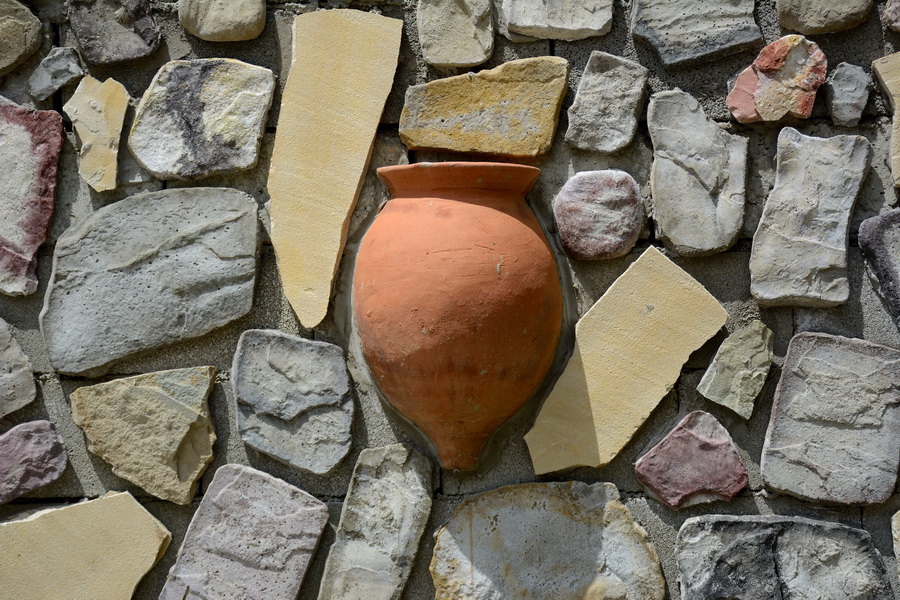 Qvevri is a large clay vessel used to ferment, store and mature Georgian wine. There are two main centers for qvevri making in Georgia - Kakheti and Upper Imereti Region.
Two of the most well-known qvevri makers in Kakheti are Remi Kbilashvili and his son, Zaza Kbilashvili. The Kbilashvili family's qvevri workshop and winery are located in the small village of Vardisubani, about 3 kilometers from Telavi. Their workshop is known under several names: Kbilashvili Winery and Qvevri Workshop, Qvevrebi Zaza Remi Kbilashvili and Meqvevre Kbilashvilis Marani.
Visitors to Kbilashvili Winery can take an informative tour on the qvevri production process, which includes everything from amassing the clay to drying it and sculpting the final product. The Kbilashvili family also offers tastings of its Rkatsiteli and Saperavi qvevri wines and its chacha (Georgian grappa).
Qvevri Making Process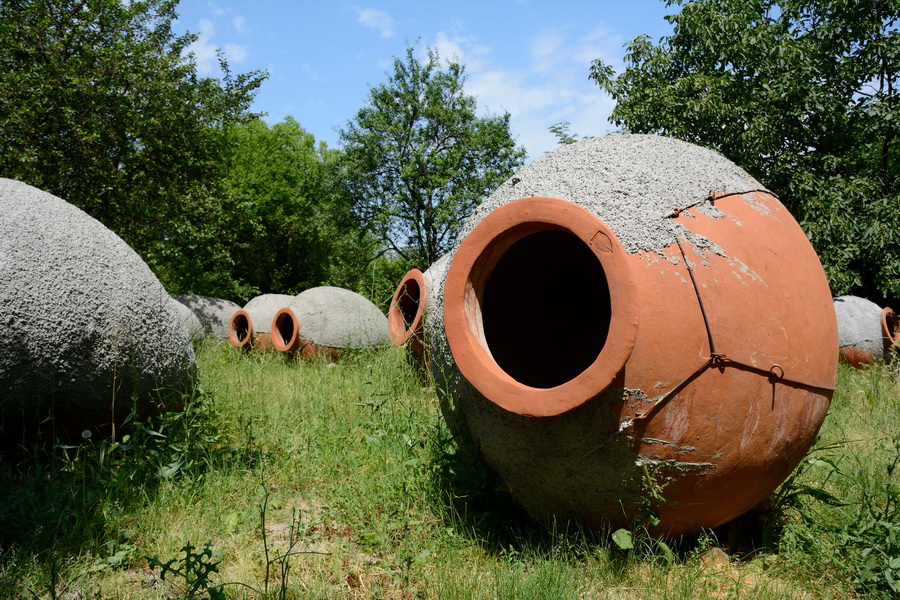 Not long after humans started using clay in the neolithic period, large qvevri vessels began to be produced on the territory of Georgia. The country is now regarded as the birthplace of these wine jugs, and in 2013 the ancient Georgian qvevri-making method was inscribed on UNESCO's Representative List of the Intangible Cultural Heritage of Humanity.
Qvevri making is not a common occupation even in Georgia. The skill is often passed down from generation to generation, and the knowledge inherited must be combined with a well-developed intuition. Zaza's children, who already take part in qvevri making, will soon be 5th- generation masters. Yet this only takes into account the family history which has been preserved, for it is likely that their family has been making qvevri since time immemorial.
Father-and-son team Remi and Zaza Kbilashvili are the current qvevri makers in the family. Remi has been making qvevri for over 40 years, after learning the art from his father. Remi, in turn, passed this knowledge on to his son Zaza, who started producing qvevri at the age of 20. The largest qvevri he has made thus far weighs two tons! Zaza's children are already learning the tricks of the trade through oral instruction and practical experience.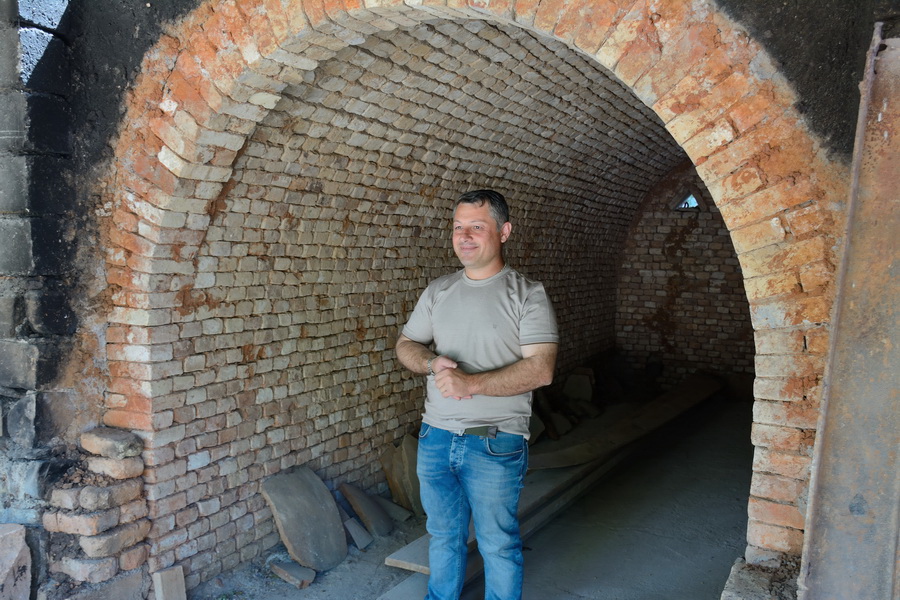 Every stage of the qvevri-making process is a family affair. Remi, his son and grandchildren begin by digging up clay from a pit located 4-5 kilometers from their home. The laboratory-tested clay has been extracted from the mountain and is valued for its many positive properties: it is fully natural, inert and non-toxic.
As any qvevri master will point out, the wine jugs are not made but rather built. They can only be fashioned in a closed environment where the temperature is regulated and the air is still, without even the slightest breeze. Each jug is built slowly, step by step, by forming 10-centimeter circular layers from the clay. Each layer should be guarded against humidity and constantly dried. There is no particular tool which is used to build qvevri, for it must be sculpted in the hands of its maker. Thus, each qvevri will have a slightly distinct shape. As any mistake can result in fresh clay being destroyed, the craftsman's intuition plays a critical role at this stage. After the qvevri has been built, it must then be dried and sealed against ground moisture by a layer of wax.
The entire procedure takes three months to complete. Qvevri production usually starts in late March and continues until October. Due to the cold, the winter months are not suitable for qvevri production.
When their qvevri are purchased by winemakers, Zaza and Remi must give instructions on how to care for the vats. As soon as the winemakers empty the qvevri they must wash the vat thoroughly before the wine residue softens the clay. As the Georgian saying goes, qvevri should be washed so thoroughly that water can be drunk from it.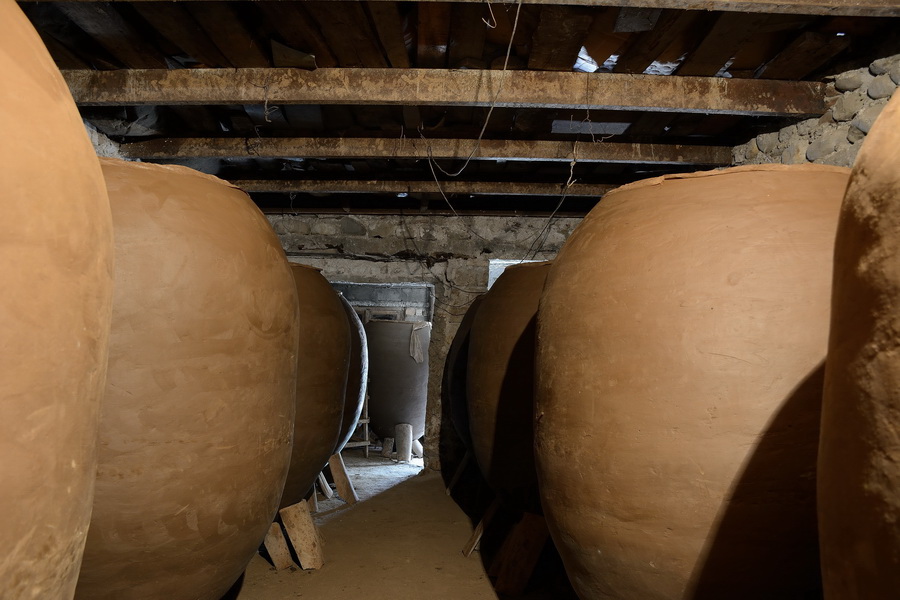 Qvevri Wine
The porosity of the qvevri vessel contributes to the development of oxidative notes, so wines made in qvevri are known to be flavorful with an eclectic blend of fruity and savory overtones. Due to their tannic character qvevri are popular among winemakers, many of whom claim that qvevri wines have more personality early in the fermenting process. Qvevri have another interesting characteristic which makes qvevri wines unique: the clay used for qvevri contains lime, a natural antiseptic which protects the wine from bacteria.
To increase your knowledge of Georgia's 8000-year-old winemaking traditions, be sure to visit Kbilashvili Winery and Qvevri Workshop near Telavi. You will have the wonderful opportunity of learning firsthand from hard-working locals experienced in the unique qvevri-making process.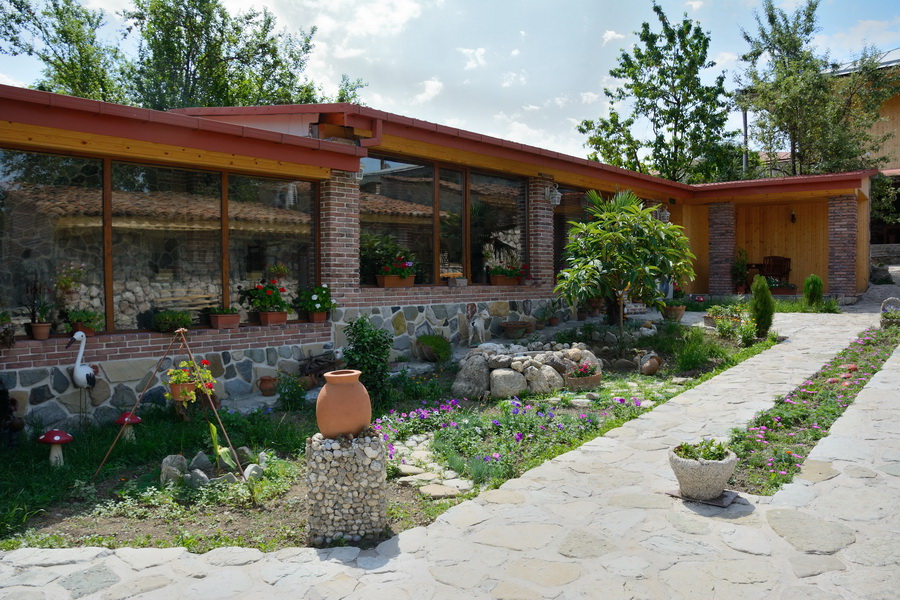 Visit this winery on the following tours:
One-Day Kakheti Wine Tour from Tbilisi
Georgian Wine-making from A to Z
Please note: family wineries often receive visitors only upon prior booking and commonly do not accommodate walk-in travellers. We maintain exclusive relationship with top family wineries in Georgia. With Advantour, you can arrange your wine visit and enjoy a tour with the tasting in the cellar. To book a tour, please contact us here.