Shumi Winery, Georgia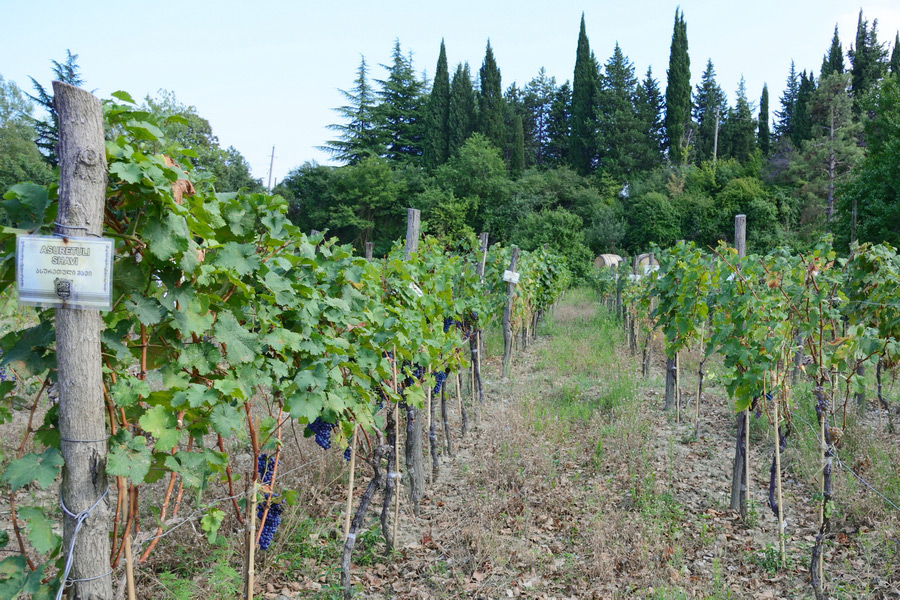 Shumi Winery is a large touristic complex in the village of Tsinandali, Georgia which has played an important role in local viticulture since 1997. The property itself is historic, for it used to belong to Georgian and Kakhetian kings and also served as the summer residence of the Russian Emperor Alexander III.
The company owns 300 hectares of vineyards which cover nearly every micro-zone in Georgia, resulting in wines as unique as they are diverse. On a visit to Shumi Winery you can experience ancient winemaking traditions firsthand, sample high-quality local wines and learn the secrets of cooking a variety of famous Georgian dishes, all while relaxing in beautiful vineyards encompassed by the Greater Caucasus.
Logo
Paskunji, a phoenix-like creature in Georgian mythology known for helping heroic people to complete their good deeds, is the logo of Shumi Winery. According to legend, Paskunji brought the very first grapes to Georgia, after which the people first started to produce wine. You can see a statue of Paskunji in the garden at Shumi Winery, and rumor has it that if you touch the creature and make a wish, it will come true.
Shumi Wines
Shumi Winery uses both classical and Georgian traditional technologies to produce a wide range of grape-based alcoholic beverages, including red and white, dry, semi-dry and semi-sweet wines, bio wines, brandy, chacha (Georgian vodka) and a special drink called Zigu. From planting and cultivating the vines to bottling and distributing the wines, Shumi wines go through every stage of winemaking on site.
Award-winning wines which we recommend trying on your visit to Shumi Winery include:
Bio Saperavi, which is produced with classic technology and aged in new French oak barrels for six months. Shumi Winery used a groundbreaking organic method of cultivating grapes and on July 17, 2005, presented the first bio wines in Georgian history;
Saperavi Bio Vinobiza 2016, a Georgian wine awarded the Bordeaux gold medal at the 2020 Citadellas du Vin, one of the most prestigious wine competitions in the world;
Zigu, an exclusive fortified beverage which has become quite popular with consumers in recent years. Zigu is made of premium brandy spirits, herbal supplements from the alpine and subalpine zones and rare Georgian grapes which are harvested in the Shumi vineyards. The drink is aged in oak barrels and has a high alcohol content (19%). Zigu has a dark garnet color and is a dessert drink with almond, wild berry, floral and caramel aromas.
Shumi Winery in Tsinandali
You do not need to be a wine connoisseur to appreciate Shumi Winery, whose gorgeous grounds offer plenty of non-alcoholic activities. The first thing you will notice when visiting the complex is a large garden decorated with sculptures made by famous Georgian and international artists. Additional attractions include Vazioni Wine Museum, a restaurant, wine cellar, ethnographic corner, chacha distillery, production facility and an enoteca. Guides offer tours in Georgian, English, and Russian, while a wide range of wine tasting packages and wines per glass are available at the complex. Shumi Winery also offers cooking classes where you can learn to:
Bake bread in a tone (clay brick oven)
Dip churchkhela (nuts beaded on a thread and cooked in flour-thickened grape juice)
Wrap khinkali (Georgian dumplings)
Bake khachapuri (cheese-filled bread)
Cook mtsvadi (Georgian barbeque)
If you visit Shumi Winery in September or early October, you can participate in Rtveli, a major grape harvesting holiday in Georgia at which you can take part in grape picking, stomping the grapes with your feet in a wooden wine press (satsnakheli) and distilling chacha in an old-fashioned style.
Vazioni Wine Museum
Shumi Winery was the first winery in Georgia to open a museum. At Vazioni Wine Museum, experts have collected 432 unique grape varieties, 325 of which are endemic to Georgia. The collection becomes more diverse every year as efforts to discover rare grape varieties continue. The museum also includes an exhibition hall where Georgian winemaking artificats are on display, including a 6000-year-old exhibit.
Shumi Restaurant
Another highlight of the winery is a restaurant with spectacular views of the Alazani Valley and Caucasus Mountains. Some of its signature dishes include khinkali (Georgian dumplings), khachapuri (cheese-filled bread), mtsvadi (Georgian BBQ), beef stewed in tomato sauce and other delicious national dishes which are created with organic ingredients grown on site.
Shumi Wine Shops and Bars
Shumi Winery has several wine shops and bars in Tbilisi. The store located at 9 Shardeni Street offers a relaxing atmosphere where you can shop for a wide variety of wines, other alcoholic drinks and local foods. Another shop located at 18 Sulkhan Tsintsadze Street in Tbilisi offers a wide range of Shumi wines, which make a wonderful gift for family and friends back home.
Visit this winery on the following tours:
One-Day Kakheti Wine Tour from Tbilisi