Kyrgyz National Cuisine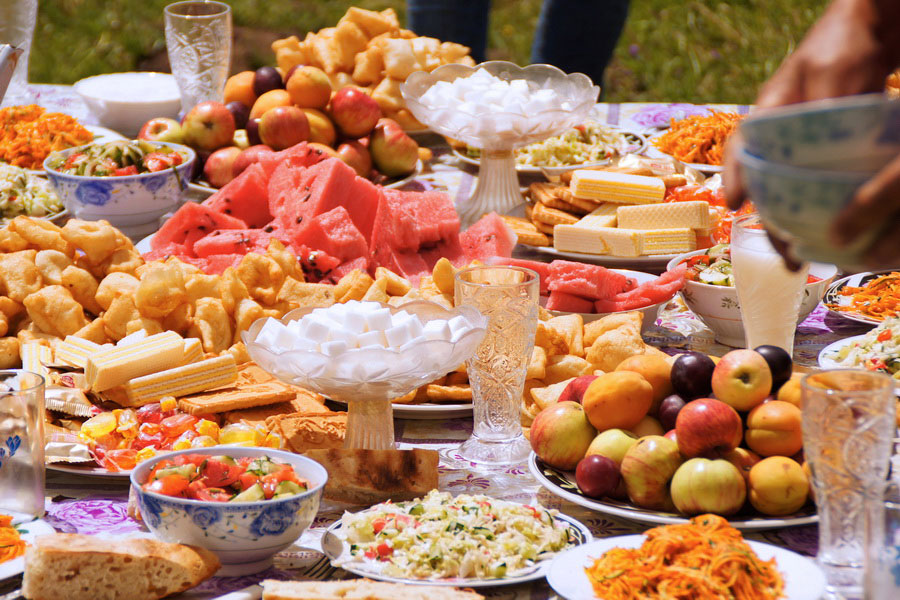 Kyrgyz national cuisine is not limited to Kyrgyz dishes alone, for over time the local diet has come to include foods from the cultures of neighboring Uzbekistan, Kazakhstan and China. Russian and Caucasian cuisines are commonplace, as they are throughout Central Asia, while in Kyrgyzstan's larger cities favorites from Italy, Japan, France and America are frequently offered. Unlike its Central Asian neighbors, Kyrgyzstan sets itself apart for its wide selection of Dungan and Uyghur dishes.
Traditional Kyrgyz Cuisine
Kyrgyz cuisine is famous for ashlyam fu (ashlyan-fu), a soup made with starch, meat, vegetables and broth. The most delicious ashlyam fu is prepared in Karakol, a small town located along Lake Issyk-Kul. Karakol's ashlyam fu is considered the best not only in Kyrgyzstan but in the entire CIS!
Kyrgyz food incudes traditional favorites like oromo (a steamed rolled dough usually stuffed with potatoes), laghman (noodles topped with vegetables) khoshans (fried manty dumplings) and maksym (a grain drink).
Exotic Kyrgyz recipes include olobo (lungs in milk), byzhy (boiled lamb intestine with meat, offal, blood, flour, rice and spices) and zhorgom (braided, boiled lamb intestines). Bozo and dzarma are cereal-based, slightly alcoholic drinks which are enjoyed not only by locals but also by many tourists.
Kyrgyz dairy products are so well-known for their superb quality that milk, butter and kefir produced in Kyrgyzstan is exported to other Central Asian countries.
International Cuisine in Kyrgyzstan
Uzbek Cuisine
Among a total national population of 6.6 million people, nearly a million Uzbeks live in southern Kyrgyzstan's Osh Region. Not surprisingly then, the south is famous for its Uzbek cuisine. Uzbek cafes are seemingly on every corner in Osh, while hundreds if not thousands of Uzbek restaurants are scattered throughout the country. They are especially common in Bishkek, where the food is usually prepared by Uzbeks themselves.
Uzbek chefs are known to cook the best pilaf, kebabs and samsas in the country. Filling mashhurda and mastava soups and boiled or steamed dumplings such as manty, chuchvara and khanum are other popular dishes which have become nearly synonymous with Kyrgyz national cuisine.
European Cuisine
The cuisine of Kyrgyzstan also includes "European dishes", which is actually a general term for food reminiscent of Italian, Spanish, French, Mediterranean, American and Russian cuisines. Among these, Italian and American foods remain the most popular. Pizza, pasta, burgers and steaks can now be tasted in almost any restaurant which serves Western cuisine.
French cuisine available in Kyrgyzstan's restaurants includes classic French breakfasts, pate, onion soup, croque madame sandwiches and nicoise salads. In many bakeries, fresh French pastries rival traditional Kyrgyz desserts and tempt anyone with a sweet tooth.
In Kyrgyzstan there are no specialized restaurants for Mediterranean, Spanish and Mexican food, but you can often find paella, seafood dishes and even nachos in Western-style cafes. There are also few Russian restaurants, but borscht and solyanka soups, shuba salad (otherwise known as herring under a fur coat) and many other Russian specialties are usually offered in European and local restaurants.
Asian Cuisine
Kyrgyz cuisine is replete with foods whose roots can be traced to Dungan, Uyghur, Japanese, Chinese, Indian, Turkish and Korean cuisines.
Uyghur and Dungan cuisine in Kyrgyzstan is concentrated along the Issyk-Kul coast and in the capital. From Uyghur cuisine, Kyrgyz are especially fond of manpar (beef soup with noodles), gosh-nan (meat-filled bread), gosher (dumplings) and various types of laghman. From Dungan cuisine, Kyrgyz love ashlyam fu and tse (vegetable dishes), len be ji (chicken) and funchosa, a noodle salad.
There are many Chinese restaurants in Kyrgyzstan which serve asparagus salad, spicy soups, veal or chicken with mushrooms, meat in sweet and sour sauce, kung pao chicken and Chinese donuts. Japanese cafes are primarily found in Bishkek and Issyk-Kul and typically specialize in sushi rolls and miso soup. Korean cuisine is slightly less common, although chicken and beef dishes, kimbap, kuksi noodles, spicy salads and pigodi rolls are available in many Asian cafes.
Turkish cuisine such as meat kebabs, rotisserie doner and pizza-like pide can be found in Turkish specialty restaurants in nearly every city.
Caucasian Cuisine
Caucasian cuisine is very popular in Kyrgyzstan, as evidenced by the many eateries serving Georgian, Azerbaijani and Armenian food.
Georgian cuisine is by far the most popular. Khachapuri cheese bread, khinkali dumplings, badrijani eggplants, chakhokhbili stewed chicken, chashushuli beef stew and sweet churchkhela can be tasted not only in Bishkek but in other larger cities around the country.
Azerbaijani restaurants in Bishkek serve grilled dishes, Baku-style salads, chicken kebabs and gyurza dumplings. Around the country, most general Caucasian cafes also offer a selection of Azerbaijani dishes.
While there are no Armenian restaurants per se, you can taste delicious dolma grape leaves, kchuch stew and khorovats kebabs in most restaurants specializing in Caucasian cuisine.
Kyrgyzstan tours offer the perfect opportunity to experience the full variety of Kyrgyz national cuisine and the various Asian, Russian, Caucasian and Western-style dishes now prevalent in the country.