Glaciers of Kyrgyzstan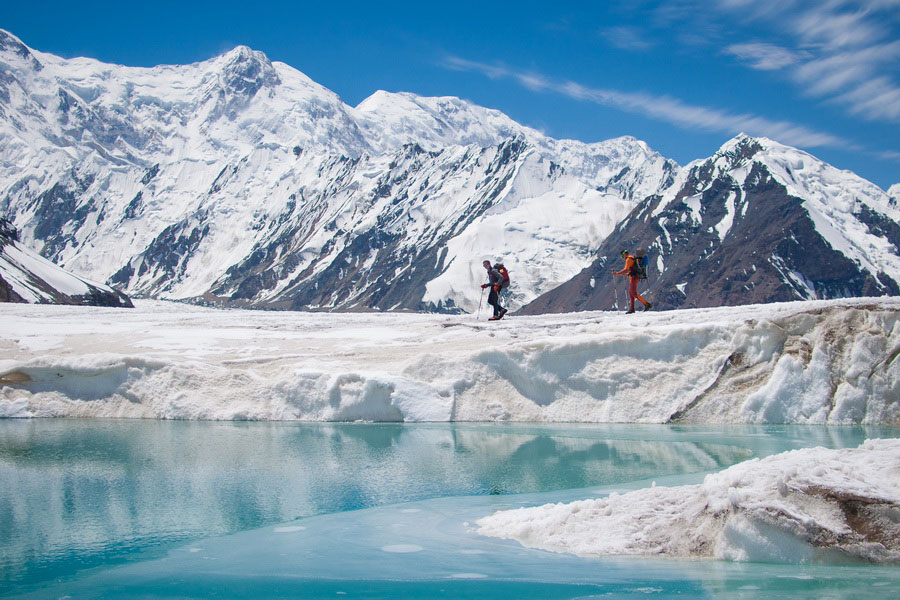 At the highest altitudes, snow falls and doesn't melt. As more snow falls, it compresses the older layers that are already on the ground, forming ice sheets. When these ice sheets pile up higher and higher, they become glaciers. Some of the ice is forced down mountain valleys, forming U-shaped glacial valleys and hanging streams (which are left in high places when the ice retreats), plus carrying debris along its course and depositing it far from its original source.
The ice in valley glaciers, known locally as ice rivers, can move between 3 cm (1.2 in) and 40 cm (16 in) a day, depending on the size of the glacier and the slope of the valley. At the edges are crevasses, or big cracks in the ice, which can be easily covered with fallen snow and as such are a particular hazard to mountaineers.
Over 8,000 glaciers in Kyrgyzstan cover about 8,100 square km (3,130 square miles), which is about 30% of the total land area and 4% of the surface area.
The most famous glacier is Inylchek (also Engilchek, Enilchek) Glacier, which divides into two branches. Inylchek Glacier is next to Peak Pobeda and Khan Tengri in the eastern Tian Shan. Some glaciers are close to Bishkek, for example Ak-Sai (at 3,500 m or 11,500 feet) or Adygene (3,200 m or 10,500 feet) in Ala-Archa National Park. These glaciers are easy accessible by two- or three-day treks.
All together, Kyrgyzstan's glaciers contain about 580 billion cubic meters (20 trillion cubic feet) of water - enough to cover the whole country at a depth of 3 m (10 feet).
This list shows some of Kyrgyzstan's glaciers. Different sources sometimes give different figures for their length and area, which can possibly be attributed to the effects of climate change.
Glacier

Location

River

Length
(km)

Area
(sq. km)

Altitude
at foot

Southern Inylchek

Pobeda/Khan Tengri

Inylchek

60.5

632.3

2980

Northern Inylchek

Pobeda/Khan Tengri

Mezebacher Lakes

32.8

215.2

3400

Kayingdi

Pobeda/Khan Tengri

Kayingdi

29.0

97.2

3400

Korjinevskovo

Zapaiski Ridge

Djanai Dartak

21.5

99.4

3890

Mushketova

Pobeda/Khan Tengri

Arir Ter

20.5

71.3

3440

Semyenova

Pobeda/Khan Tengri

Sary Jaz

20.2

64.5

3340

Lenin

Lenin

Achik Tash

13.5

58.1

3760

Mushketova

Kakshaal

Kotur

13.3

23.0

3940

Nalivkina

Kakshaal

Ai-Tala

13.2

19.5

3960

Keikal

Pobeda/Khan Tengri

Terekti

12.9

26.8

3380

Petrova

Ak Sheirak

-

14.3

73.9

-