Waterfalls in Kyrgyzstan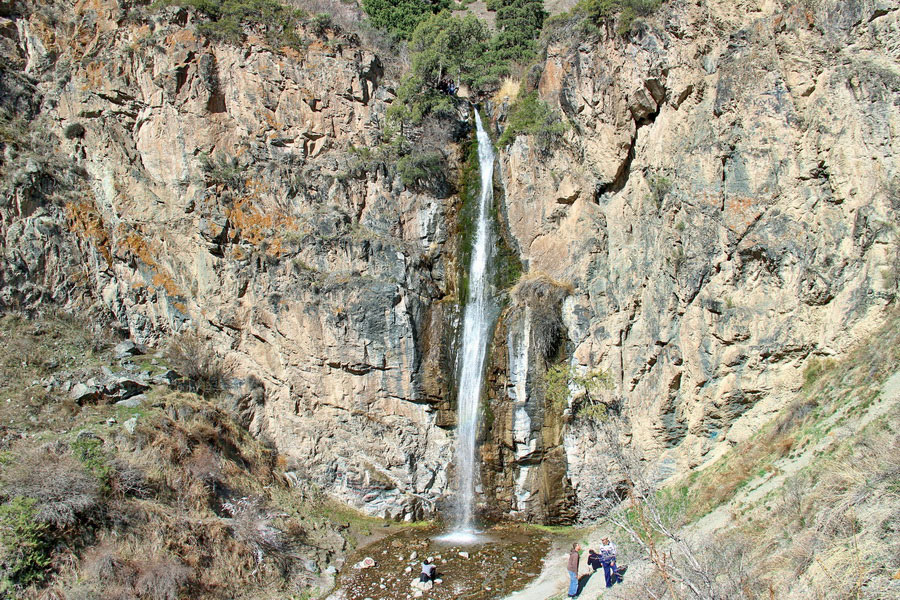 Waterfalls in Kyrgyzstan can be found almost along every river and mountain stream of the country. Here is a list of some of the major ones:
Location

Oblast (Province)

Height (m)

Notes

Abishir-Sai Canyon

Osh

A picturesque canyon – with steep rocky sides, with the river Abshirisai flowing through it. The river emerges gushing from a cave in the rock face and falls through 30 m to the valley floor. The waters of the waterfall are thought to have curative properties and be holy. Pilgrims come from far and wide to bath in the spray and collect the water in bottles

Alameddin Valley

Chui

20

Located a little from the main road, requiring a trek of about an hour and half to reach it.

Arslanbob

Jalalabad

23

80

Within easy walking distance of the village center is a small waterfall (about 23 meters tall) and in the cliff opposite is a small cave, or grotto – known as the "Cave of Forty Angels" – where a holy woman used to live – people would come to her and make petitions.

A little further away – about a two walk from the village – is the "large" waterfall. It is split into two sections, one cascading down some 60 meters and the other, 80 meters.

Barskoon

Issyk-Kul

24

There are several impressive waterfalls not far from the main Kumtor Technical Service Road which ascends through the valley.

Chichkan

Jalalabad

60

Above the main Bishkek-Osh road lie some lakes and this waterfall.

Chon-Kurchak Gorge

Chui

40

Called "Pigeon's Waterfall" (Golubiny Vodapad in Russian). The water cascades down over sharp rocks. There is a path from the road leading to the waterfall, and sometimes people are lucky and see a flock of wild doves (pigeons) which give their name to the waterfall.

Kegety Gorge

Chui

30

Sarala-Saz

Naryn

A nearby waterfall is known to locals by the romantic name "Look for me" because it is well hidden amongst the rocks. It is possible to stand within a few meters of it, hear the rushing water, but not be able to see it.

Sokuluk Gorge

Chui

60

Called "Pigeon's Waterfall" (Golubini Vodapad in Russian). It lies just 80 kilometers to the southwest of the capital, Bishkek. From the road, there is a short trek – of about an hour – to reach the waterfall itself. It is possible to makes a visit to the waterfall as a day excursion, or to stay in the valley, at Tosh Bulak, and explore for a little longer.

Son-Kul

Naryn

Surrounded by trees, a short trek from the road between the lake and the road from Naryn over the Dolon Pass.