Gorges, Canyons and Valleys of Kyrgyzstan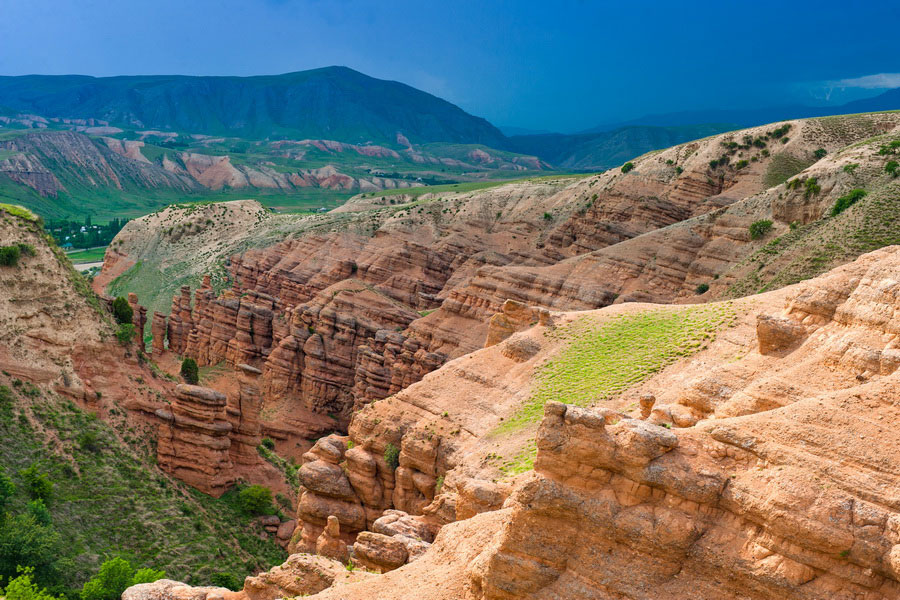 Kyrgyzstan's gorges are some of the most picturesque landscapes of the country. Gorges are formed as rivers carve a path between mountain peaks, between glaciers and coniferous forests. Valleys are wider, with broad, sloping walls that can be very fertile. Valleys are some of the most populated parts of Kyrgyzstan, where the most food is grown. Canyons have steep rock faces and spectacular towers that will dazzle any visitor.
Some of the gorges are popular among tourists. Ala-Archa, because of its proximity to Bishkek and its high peaks, is a favorite for both picnickers and trekkers. Semyonov and Kyrchyn are two of the largest and prettiest gorges on the north shore of Issyk-Kul. Kyrchyn was used for the World Nomad Games in 2016, where it was turned into a large yurt camp that showcased Kyrgyz culture and hospitality. Boom is one of the most traveled gorges in Kyrgyzstan, as the road from Bishkek to Issyk-Kul runs along it.
Fergana Valley is crossed by the borders of Tajikistan, Uzbekistan, and Kyrgyzstan, and remains an ethnically diverse corner of Central Asia. Located where the Naryn and Kara Darya Rivers join to form the Syr Darya, the valley is rich with farms and picturesque traditional villages.
Konorchak and Skazka are two of the most dramatic landforms in Kyrgyzstan. With its red sandstone formations in striking shapes, Skazka is a must-see for those traveling on Issyk-Kul's southern shore. Konorchak Canyons are also well worth exploring for the large number of canyons and extinct volcano, but at 200 km (125 miles) long, there are more canyons than the average visitor will ever be able to see.
Gorges are one of the most spectacular features of Kyrgyzstan's nature. They are often dramatic and scenic, and provide options for everything from picnics and short hikes to longer treks and horseback riding.