Tourism in Russia
Advantages and Peculiarities of Tourism in Russia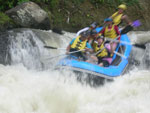 What could be more tempting than a vacation in the largest country in the world! Only in Russia, on its immense open spaces the exotic of all geographic areas - from the subtropical Black Sea to the severe beauty of Lake Baikal and the royal majesty the snow-covered boreal forest is concentrated.
What could be more interesting than to get acquainted with this beautiful country, which throughout the world have all been associated with wealth, power and majesty, and the phenomenon of the mysterious Russian soul, the winner country in world wars, the one which has endured all hardships with honor and pride.
What could be more exciting than to see the entire Russian exoticism - the highest mountains, the longest and affluent rivers, the green forests, the unique architecture, the ancient monasteries and gold-domed churches, visit traditional Russian cities, which have preserved their unique customs and traditions.
What could surpass the feeling of warmth and hospitality of the nations inhabiting the vast territory of Russia.
It is practically impossible to describe all the great things about vacation in Russia. This beautiful country offers its guests comfortable beach holidays on the shores of the Black and Azov Seas, where you will find a dynamic white water rafting, fascinating diving and other popular types of water entertainments; active tourism in such picturesque places as Lake Baikal, the Altai and many others; skiing in the Ural mountains and ski resorts of the Caucasus - Elbrus, Dombay, and Krasnaya Polyana; excursions to the Golden Ring cities, preserving the artistic value of historical and cultural monuments. Russia is rich in great number of other unique places too. Vacation in Russia offers beautiful nature, a lot of reserves, sanctuaries and natural parks.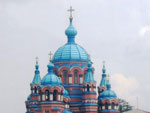 Some of the architectural, historical and cultural monuments on the territory of Russia made to the site: the Moscow Kremlin and the Red Square, the historic center of St. Petersburg and the palace-park complex of the surrounding area, historical monuments of Novgorod, historical and cultural complex Solovetsky Islands, white ancient monuments of Vladimir-Suzdal lands, the State Historical-Architectural and Ethnographical Museum-Reserve «Kizhi» and others.
Travel in Russia with Advantour. We offer you amaizng tours of Russia.