Tourism in Russia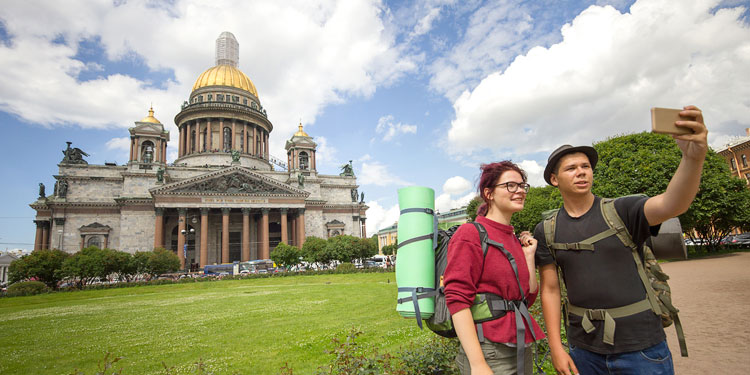 Since 2000, tourism in Russia has developed at an astonishing pace. Today it is as safe, easy-to-get-to and interesting as any of its European neighbours. Yet, despite its appeal, the biggest country on earth remains a bit of a secret destination. Travellers who take the road less travelled to Russia will be rewarded with a diverse and sophisticated Eurasian culture, some of the planet's most spectacular natural wonders and more than twenty UNESCO world heritage sites. The lack of crowds and favourable exchange rate is just the cherry on top of Russia's many attractions that make it a dream destination.
Why visit Russia?
Culture: Neither European nor Asian, Russia's geography has resulted in a unique culture. Marvel at the elegance of Russia's ballerinas, try your hand at rustic Slavic crafts and sip piping hot tea from a samovar while on our Russian culture tours.
Adventure: If you long to step where no man has stepped before, our Russian adventure tours are for you. Whether you dream of conquering Europe's highest peak, sailing down its longest river or chugging down its longest rail route, we have a tour that can make that dream come true.
People: From the Cossacks to the Yakut reindeer herders, Russia is an incredibly diverse nation. Our ethnic tours take you to the countryside where ancient traditions still live on.
Winter: There is nothing quite like Russia in winter. Troika rides, ice-sculpture excursions and vatrushka (traditional Russian sleds) rentals can all be included in our tours.
Russia Tourism Packages
Unlike most Russian tour agencies, we don't believe that one-size-fits-all. The variety of tours we offer in Russia is huge. With more than 40 destinations—including classics, like Moscow and St Petersburg, and remote locations, like Altai and Kamchatka— our tours cover almost all of Russia's vast territory. For each location, we have developed holiday-packages to suit specific interests like our adventure, culture and ethnic vacations.
Main types of tours:
Group Tours: Share your once-in-a-lifetime journey to Russia with like-minded wanderers. Our small to medium sized groups provide a safe, easy and budget-friendly way to see parts of Russia that would be difficult to visit as a lone traveller.
Private Tours: Treat the people you love to a private tour in Russia. Choose the dates and speed that suit you. There are also plenty of add-on options to make the journey extra-special like VIP museum excursions.
Custom-Made Tours: Discover everything you ever wanted to know about Russia on our custom-made tours. If you've never been to Russia, our team of expert locals can give advice to make your first visit a memorable one. If your heart is already set on a specific tour, simply tell us the dates, destinations and sites that interest you and we'll draw up an itinerary especially for you.
Types of Tourism
Russia has so much offer. Our mission as a travel agency is to help people like you uncover the jewels hidden in its forests. Whether you dream of seeing the wooden churches and ancient monasteries in the countryside or if it's the thought of a night at the Mariinsky ballet that gets your heart beating; we have a tour that's just right for you.
Cultural Tourism in Russia
Since Russia became a nation 500 years ago, its culture has always been distinct from that of its neighbours. The differences started with the first wooden banyas. Slavs washed weekly, while non-Slavs barely washed at all. Historians conjecture whether it was their superior cleanliness that gave the Slavs their holier-than-thou attitude which led to them spurning the Pope and adopting the Orthodox Church. Either way, Russian history took on a completely different trajectory to other European nations resulting in a fascinating culture.
Despite the Soviet Union's best attempts, Slavic culture and ancient traditions still live on in the countryside. In izbas (log houses) clustered throughout Russia's forests, visitors can watch and learn how craftsmen continue the tradition of producing Russia's iconic artworks such as matryoshka and khokhloma. Churches and monasteries with walls steeped with the scent of incense and centuries of history are places of both beauty and profound cultural significance. On the Asian side of the Ural mountains, lines of bright cloths flutter in front of Buddhist temples and smoke wafts from shaman huts deep in the forests of Siberia.
Russian cities are also great bastions of culture. The relics of tsarist times—the extravagant architecture and sophisticated art—form an indelible part of the cityscape as well as the locals' own personal identity. The imperial influence is most apparent in St Petersburg, where classical art forms, like ballet, are part of popular-culture and the canals are still lined from end-to-end with pompous palaces.
The lack of skyscrapers in St Petersburg fools many tourists into thinking that it's older than Moscow when, in fact, Moscow is its elder by more than 600 years. Despite its slick veneer of ultra-modern design, Russia's capital truly is historic and offers a glimpse into Russia's more medieval and brutish past. Fearsome fortresses, like the famous Kremlin, impressive armouries and castles built by the likes of Ivan the Terrible provide a stark contrast to the megalithic Soviet structures and some of Europe's glitziest high rises. Read more...
Adventure Tourism in Russia
The unconquered wilderness of Russia is ripe territory for adventure. In Russia's Far East, guides will walk you through smouldering volcanoes and rivers red with salmon to get to one of the most densely-populated bear territory on Earth. Husky sleds chase after the Northern lights in the frozen expanse of Russia's taiga. In the Caucasus, daring climbers attempt to conquer Europe's tallest peak, Mt. Elbrus. While smaller mountains by the seaside town of Sochi (which hosted the winter Olympics) attract seasoned skiers to their perfectly powdered slopes.
Russian adventure tourism isn't just for athletes. Any traveller with a bit of gusto can get a taste of Russia's wild side, be it by hopping on the world's longest rail route— the Trans-Siberian— or by recreating the voyage of the ancient Slavs by sailing up the mighty Volga.
Even the cities have something out of the ordinary to offer for the intrepid traveller. In St Petersburg, roof tours have tourists jumping out of windows and clambering over spires in search of the perfect view. And in the capital of the ex-USSR, the secrets of the KGB are revealed in eerie hideouts and sinister interrogation rooms. Read more...
Ethnic Tourism in Russia
While Russia's cities have developed at an astounding rate, village life has remained much the same. Travellers who venture in to Russia's forests will be able to try their hand at matryoshka painting or have a nap on a pechka (giant Russian stove). Even the diet of the villagers remains unchanged: wild foods foraged in the forest such as berries and mushrooms and rustic varieties of fruit and veg grown at the dacha are the mainstay of almost all meals. On holidays such as Maslenitsa, the whole village has a hand in preparing a huge feast, which is naturally accompanied by home-brewed spirits and much merriment!
Although Russians may be known for their blue-eyes and blonde tresses, many Russians aren't Slavic. Over the Ural mountain range, in Russia's Asian territories, Buddhist temples and Shamanistic monuments add bursts of colour to the dark Siberian pine forests. Traditional foods include camels milk and delicacies like chak-chak. Holidays in the south here are less centred on flipping blinis and more on claypot-smashing, horse-racing and towel-wrestling as can be seen during Sabantuy, the wild Tatar holiday. Read more...
Family Tourism in Russia
Russia's two main cities, Moscow and St Petersburg, are wonderful places to take little ones. At the Hermitage, children can dress up in royal costumes and parade around the rooms like a prince or princess. In the magnificent, golden fountains of Peterhof, children are encouraged to run in the spray. Wanna-be military commandos can marvel at the Tsar's personal weaponry in the Kremlin's Armoury, step onboard a cold-war submarine or clamber over tanks in the Central Museum of the Armed Forces. In the training camp for astronauts in Moscow, star-wars fans can take a ride in an authentic space-flight simulator and, in the massive Museum of Cosmonautics, see Belka and Strelka and the first sputnik.
What really makes Russia a magic place to take children, however, are the white winters. Troika rides to the sound of jingling bells, whooshing down wooden ice- slides, walking through castles carved out of giant ice blocks and cheering on an ice- hockey match: these are moments your child will never forget.