Landmarks and Attractions of Turkmenistan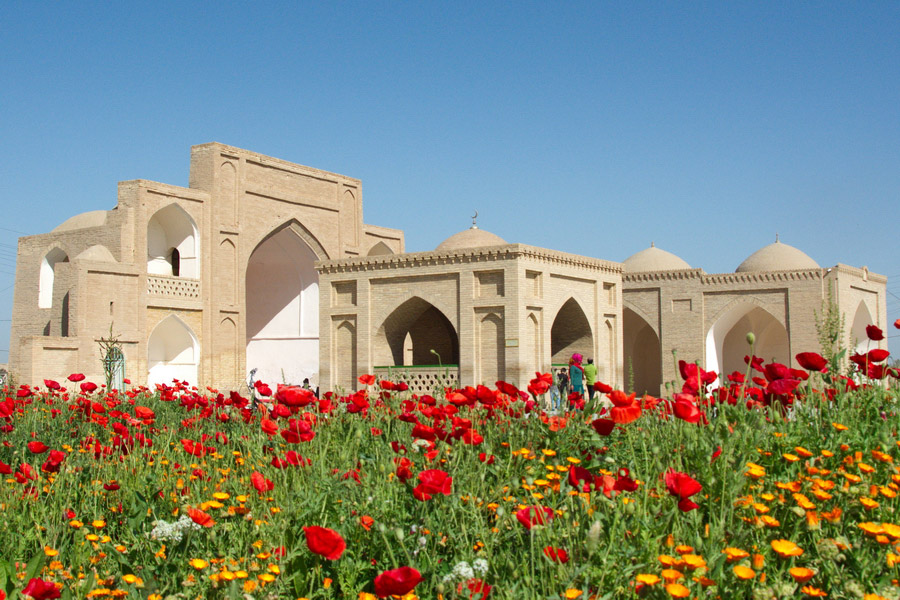 Turkmenistan is the most mysterious country of the Central Asian region, and it is still not much known in the western part of the world. It is partly due to long distance to get to Turkmenistan and partly due to difficulties in obtaining visa. It is difficult, but still possible. Those who are lucky to get there, temporarily find themselves in amazing Ancient and Medieval East.
Here, despite the time, the remnants of the first states of Central Asia have been preserved there. There is an impressing long list of unique landmarks and attractions of Turkmenistan. Merv is one of the ancient states on the territory of Central Asia; Nisa is the heart of the Parthian Kingdom; Ekedeshik is a cave complex built in the B.C. period; Serakhs is a blooming city of a famous Great Silk Road; Kunya-Urgench is the centre of Muslim holy places. Many other landmarks and attractions of Turkmenistan amaze the imagination not only with the beauty of architecture and its age, but also with its rich history that is found in every monument. Many old architectural monuments are included in the UNESCO World Heritage List, and a few modern ones are in the Guinness World Records Book as "the most … ", and definitely, worth visiting and seeing at least once in a lifetime.
Nature of Turkmenistan is very beautiful and different, especially in spring. It paints landscapes in bright patterns as if embroidering a big carpet that Turkmenistan is famous for. There are enough adventures for fans of active tourism: Dinosaurs plateau with real tracks of those animals; fantastic labyrinths in Karlyuk caves; Lunar Mountains resembling gigantic pink cakes; and burning Door to Hell in the middle of the desert that appeared in the beginning of the 80's as a result of miscalculation of Soviet geologists. Add to this ancient mud volcano of Boyadag, sheer dumpings of Big Balkhan, colony of crabs in the Chalsu spring, ancient pistachio woods in Kopetdag reserve, Badkhyz basin and its hollow Yer-Oylan-Duz with its cones going into the ancient volcanoes, and still the list is incomplete.
Particular Turkmenistan sight is its people with their unique traditions and customs. Turkmen lifestyle and mentality differ from the western kind and has its own centuries-long philosophy of oriental wisdom. For example, Nokhur region located in an impassable area of Kopetdag Mountains has preserved their culture up to now, and is one of the most beautiful touristic spots in Turkmenistan. Even a brief introduction to its culture and lifestyle is a unique experience that you will remember forever.
The other Turkmenistan sight and national pride are their carpets that are famous all around the world with their beauty and quality. In Ashgabat, the capital of Turkmenistan, you can find the only museum in the world – Carpet Museum, where you can see as the oldest Turkmen carpet, so the biggest carpet in the world that is 300 square km.
Ashgabat is worth separate attention and stands out with its architecture and grandeur, as any capital is supposed to be. Few years ago, Ashgabat was listed in the Guinness World Records Book as the world's highest concentration of white marble buildings.
The image of Akhaltekin horse, thoroughbred horse of Turkmen for about 5000 years, adorns national emblem of Turkmenistan. They are fast, enduring and elegant horses, which have been a national pride and deserve special place among Turkmenistan sights.
Must See Landmarks and Attractions of Turkmenistan