Turkmenabat, Turkmenistan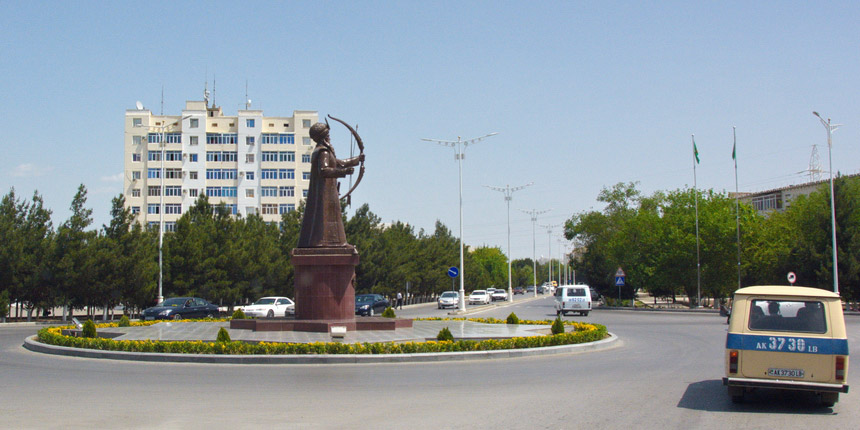 Tours, Attractions and Things To Do in Turkmenabat
Turkmenabat is the center of the eastern part of Turkmenistan and the second-largest city in terms of population. It is located on the banks of the Amu Darya River. Long time ago the fortress of Bukhara emirate called Chardzhui (the four canals) used to stand there. It guarded the Amu Darya crossing from the attacks of nomadic tribes. In 1886 when trans-Caspian Railway reached the fortress it grew first into a military and then into civilian settlement. In 1901 the railway bridge across the river was built. In 1940 the city's name was rewritten in a new transcription - Chardzhou. In 1999 Chardzhou was renamed Turkmenabat ("created by Turkmen"). Today Turkmenabat is a developed industrial and cultural center.
The main place of interest in the city is Kugitang reserve (to the southeast of the city). It is a mountain range with a protogenic nature, untouched by civilization, abounding with rare species of animals and plants. There you can see a lunar landscape of Boya-Dag, the plateau of Dinosaurs with prints of prehistoric pangolins, unique karstic caves. If you visit the museum-city of Atamurat you'll be able to see ancient caravanserais, mausoleums of Alamberdar and Astana-baba which even now remain as the place of pilgrimage for many believers.
Turkmenabat Landmarks:
The Ancient Settlement of Amul' ( the 10th - 11th centuries)
The ruins in the ancient settlement of Amul' used to be the fortress of Amul's ruler. It is located near the entrance to Turkmenabat about 10 km from the city center. In the 10th century the ancient settlement was a pise -walled fortress surrounded by a wide moat filled with water. Each side had a gate which looked at the four winds. They w ere safeguarded by warriors ( sarabazs ) day and night. Read more...
The Mausoleum of Allamberdar
The Mausoleum of Allamberadar ( Almutasir) is an 11th-century monument of architecture. The building of the mausoleum is largest among the existing early structures of Northern Khurasan. Read more...
The Mausoleum of Astana-baba
The mausoleum is a part of the memorial complex consisting of a mosque and a tomb. As a matter of fact they are several buildings constructed it various periods. Read more...
Caravanserai Dayakhatyn ( the 11th century)
The largest caravan serai Dayakhatyn ( Bai-Khatyn ) is a n 11th-12th-century monument of architecture. It stood on the medieval road from Amul' ( Turkmenabat) to Khoresm. Read more...