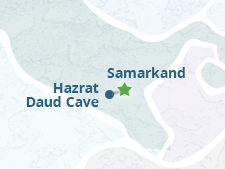 Samarkand is the city of holy places, and one can find amazing sights in its surroundings. For example, there is a unique cave of Hazrat Daud located only 40 km away from the city at the foot of the mountain, on the rocky cliff. This is a sacred place and many pilgrims come here. Besides, the road to the cave is picturesque and a good excuse for a pleasant walk. Moreover, after the visit to the cave, one feels a spiritual lightness. If you are on holiday in Samarkand, then one-day tour to the Hazrat Daud Cave will be an excellent complement.
Tour itinerary:
At 09.00 your guide will meet you at your hotel in Samarkand. Then you will depart from Samarkand to the Aksay village (40km, 1 hr). You will be at the foot of the mountain (on the height of 980m) with two roads leading there: stairs of 1303 steps and a horse road. Walking up the stairs takes much time, thus it is better to choose the latter and get to the top on horses or donkeys. Riding a horse for half an hour, you will be at the mosque and viewing platform (on the height of 1280m) where you will have an excellent panoramic view of the Samarkand valley.
After seeing the mosque and enjoying wonderful views, you will go (200 steps) downstairs to Hazrat Daud Cave. There you will enjoy view of the cave, walk along the tunnel until the fingerprints of palms and feet of Hazrat Daud. Then, return to the mosque and go down the stairs (1300 steps) to the Aksay village. The tour will be finalized by the return to Samarkand.
Duration: 4-5 hours
Price includes:
English speaking guide;
Transport throughout the tour (1-3 pax – sedan; 4-6 pax – van);
Horse or donkey to climb the mountain.
Price does not include:
Lunch.