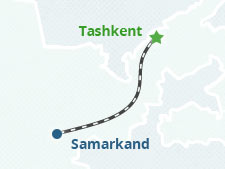 By choosing the Cultural Day Tour to Samarkand from Tashkent by "Afrosiyob" Train, you will see the whole architectural grandeur of one of the most ancient cities in the world, which is also called the "City of Great Shadows". The Samarkand monuments like shabby pages of history, by "skimming" of which, you can learn the history of the great city. Structures, built mainly under Amir Timur, his grandson Ulugbek and other rulers from the Temurid dynasty have survived in Samarkand up to date. For one sightseeing day you will see the best-known sights of Samarkand: Registan Square, the Gur-Emir Mausoleum, Shakhi-Zinda complex, Ulugbek Observatory and Bibi-Khanum Mosque.
Tour itinerary:
Transfer to the Railway Station at 07:15. The high-speed Afrosiyob train leaves for Samarkand at 08:00 and arrives in Samarkand at 10:10. A guide and driver will meet you at the station, which is a starting point of the Samarkand tour. The tour program includes visits to Gur-Emir Mausoleum, Registan Square, Bibi Khanum Mosque, Shahi-Zinda Necropolis, Ulugbek Observatory and the central Samarkand Bazaar. Back to the railway station at 16:00. The train departs for Tashkent at 17:00 and arrives in Tashkent at 19:10. Transfer to the hotel.

Price includes:
Economy-class ticket for train Tashkent-Samarkand-Tashkent;
Guided sightseeing tour in Samarkand;
Entrance fees to the museums, mausoleums and other sights;
Transport to/from the train station and throughout the Samarkand tour.
Price doesn't include:
Full board;
Travel insurance.