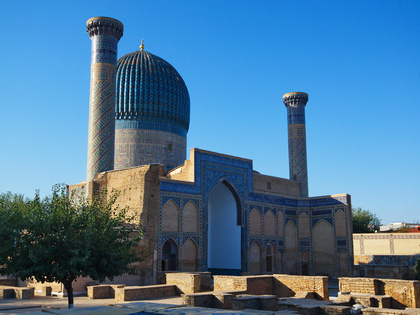 This is the best Samarkand tour for visiting this great city in just one day. Of all of the UNESCO World Heritage Sites in Uzbekistan, Samarkand is the most majestic: the squares were once filled with merchants from far and wide, and the halls of these grand buildings were walked by some of most important scholars of their time. Start with the Ulugbek Observatory, a museum dedicated to the achievements and work of scientists from generations past. Shahi-Zinda, a winding alley lined with intricately-decorated mausoleums, is the next stop, followed by Bibi-Khanum Mosque, still impressive even though it has laid in ruins for centuries. Registan Square is the crown jewel of Samarkand, a symbol of Samarkand's history as a trade and cultural center on the Silk Road. Finish up the tour with stops at Siab Bazaar, perfect for wandering among vendors of dried fruits, colorful cloths, and freshly-baked bread, and Gur-Emir Mausoluem, the final resting place of Timur, one of the greatest rulers of Central Asia. For just one day, you'll be back in the time of the Silk Road, walking the streets of Samarkand and seeing the monuments of this great city.
Tour itinerary:
Our guide and driver will meet you at your hotel in Samarkand. The tour begins with a visit to Ulugbek Observatory, where part of the sextant from the 15th century is preserved. Continue to Shakhi-Zinda Necropolis and remains of Bibi-Khanum Mosque. Walking through an alley with souvenir shops, you will reach the spectacular Registan Square which has been the center of Samarkand for many centuries. During sightseeing you will have a chance to visit the colorful Siab bazaar with stalls full of oriental sweets, local fruits and variety of freshly baked traditional breads. The last point of interest to be visited is Gur-Emir Mausoleum – the final resting place of Timur, a great emperor. End of the tour.
Price includes:
Guided sightseeing tour;
Entrance fees to the museums, mausoleums and other sights;
Transport throughout the city tour.