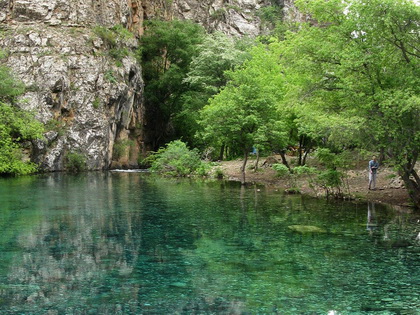 The tour runs from April to September.
There are many interesting places for outdoor recreation around Tashkent, but the most striking and unusual is Lake Urungach. If you want to go from Tashkent to one of the most beautiful sights, then the choice is obvious – this is a one-day tour to Lake Urungach. Along the way, you can enjoy the scenery of the Charvak reservoir and the mountain peaks of the Tien Shan. Changing a passenger car to an SUV, you will get right to the lower lake Urungach, which fascinates with its crystal-clear water with an emerald hue. Because of this, Urungach Lake has a second name - Jade Lakes. Then you will take a short hike up 200 meters, and after an hour of leisurely ascent, the upper lake Urungach, surrounded by rocky mountains, will open in front of you. After lunch at the lake, you can take a walk around its surroundings. A one-day tour to Lake Urungach will surprise you with its beauty and this short trip will remain in your memory for a long time.
Tour Itinerary:
7:00-10:00 Early departure from Tashkent towards the Charvak reservoir. After 70 km, the mirror of Charvak and the massive Big Chimgan Mountain on the horizon will begin to flash in the car window. In another hour we will arrive in the village of Pskem, and we will change a passenger car to an SUV.
10:00-11:00 Transfer by dirt road to the lower lake Urungach, which is characterized by crystal clear water with a greenish tinge, which is why Urungach is called "Jade Lakes". Photographing and relaxing on the shore.
11:00-12:00 Then we will go to the upper lake Urungach. It will be necessary to walk a little more than a kilometer and gain 200 meters of altitude. After a long climb, you will be rewarded with a gorgeous view of a large lake surrounded by high mountains. Here you can take a lot of photos for memory.
12:00-14:00 Lunch at the natural dam of the lake. And after some rest there will be a short walk along the bypass path to the middle of the lake and back.
14:00-15:30 Descent to the lower lake and transfer by SUV to the village. Change to passenger cars.
15:30-18:30 Return to Tashkent. The end of the tour.
Note: By July, the water level in the lower lake drops significantly.
Important: No special equipment is required for this tour, but there will be steep ascents and descents during the hike. If you have had surgery in the past, have life-supporting implants such as heart valve replacements, suffer from chronic medical conditions such as asthma or high blood pressure or have any special dietary restrictions (including vegetarian/vegan diet), please let us know in advance.
Dress: In hot, sunny weather a brimmed hat, outerwear with long sleeves, trousers and trekking boots or sneakers are recommended.
Price Includes:
1. Transport to / from the mountains (1-2 persons by sedan car; 3-5 persons 2 sedan cars);
2. Transport in the mountains (SUV "Niva", 4 people per car);
3. Mountain guide services;
4. Ecotax;
5. Picnic lunch.