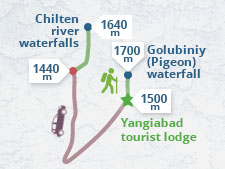 Yangiabad - the Pearl of Uzbekistan's Mountains: The Yangiabad Mountains are a real treasure for trekkers, with the soft scent of pine trees and flowering herbs and light blue sky. The Yangiabad tourist lodge is located about 120 km (75 miles) from Tashkent, at an elevation of 1,500 m (5,000 feet) above sea level, in the Chatkal Biosphere Reserve. The lodge has guest rooms, a bar, restaurant, and even a disco and entertainment programs. The lodge's location in the pine trees and Yangiabad Mountains makes it the best trip out of the city and out in nature, without sacrificing any of the comforts of civilization.
At 10:00 a.m transfer to the Yangiabad tourist lodge. Accommodation in comfortable double rooms. Rest. Lunch time. After lunch walking tour to a "pigeon gorge" waterfall, which takes 2-2.5 hours (1500 m of steep ascent). Returning to the tourist lodge. Free time. Dinner. Overnight at the tourist lodge.
This day is the main part of the active tour. Start by going up the gorge at the cableway track (1500 m). The gorge leads to the crest of the ridge, separating the valleys of Kattasay and Chilten rivers. A faint trail winds through the rocks and bushes and in 1.5 hours it takes us to a small spring, percolating almost through the roots of a spreading tree.
After drinking the crystal clear spring water and having a short rest in the shade of a tree, we take another 15-20 minutes of quite an intensive climbing and reach the saddle of the pass. The crest opens a fascinating panorama of the upper river of Chilten as well as the Miner and Babaytag peaks (3555 m).
After a short rest, enjoying the panorama, we start the descent from the pass to the valley of the Chilten river. In 1.5 hours of a quite steep descent, we reach a group of trees, growing on the shores of the Chilten river, where we stop for a lunch. After lunch, we walk up the Chilten river to the waterfalls and return back to the road, where our driver will wait for us. Transfer to Tashkent. End of the program.
Note: If adverse weather conditions occur, guides reserve the right to adjust the route in order to ensure the safety of tourists.
It will be more comfortable to trek with sunglasses, raincoat, climbing shoes, warm and protective clothes.
NB: this trip does not require any special gear, but during the tour you will have steep ascents and descents. If you have had any operations in the past or have life supporting devices/implants (like prosthetic cardiac valve) or have any health conditions (like asthma, high pressure), any special dietary requests or restrictions including vegetarian/vegan diet, please let us know.
Transportation to/from Yangiabad tourist lodge;
Trekking with an experienced guide;
Lunch box for the second day;
Accommodation at the tourist lodge with full board.