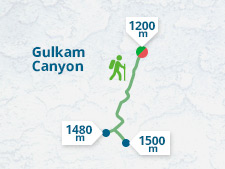 The tour is offered from mid-May until early October.
Adventurous and active travellers that want to experience Uzbekistan's nature will love this day of hiking in the Gulkam Canyon and the Chimgan Mountains. Before the start of the active part of the tour, you will have a trip along the serpentines, which offer a view of the Charvak reservoir and the rocky slopes of the eastern side of Chimgan. You will drive into the Gulkam Gorge and go straight to the gorges. Sheer cliffs will rise above you on both sides, where sunlight reaches the bottom only at noon. After seeing the main part of the tour, you will go to the picturesque waterfall on the Kuilyusai tributary to rest and have lunch. During heavy rain, the Gulkam gorges can become deadly in the event of a mudflow, but in good weather this is a great opportunity to feel like a real extreme.
Tour itinerary:
9-00 – 11-00: Transfer from Tashkent to the confluence of the Mazarsai and Gulkamsai rivers (1200 m.), the starting point of the tour.
11-00 – 15-00: Walk to Gulkam gorge and Gulkamsai tributary - Kuylusai. Here you can enjoy the magnificent views of the Gulkam gorge, their steep cliffs, as well as "baths" on the cascade of waterfalls. Along the way there will be numerous crossings across the river, where you will have to wet your feet, so it is advisable to have a change of shoes (+200 m, -200 m). After visiting the gorges, go along the tributary Kuylusai to the picturesque waterfall. Picnic lunch on the way. Return to the car.
15-00 -17-00: Transfer to Tashkent. The end of the tour.
Note:In bad weather, guides may adjust the route to ensure tourists' safety.
We recommend you bring the following on the trek: hiking shoes, and clothes suitable for the weather (in hot, sunny weather: sun hat, sunglasses, and sun cream; in cold or rainy weather: jacket, windbreaker, or raincoat). In all types of weather, trousers and long-sleeved tops are advisable. Shorts are not suitable because the route passes through areas of thorny bushes.
Note: This tour does not require any special equipment. However, please be aware that it involves several steep ascents and descents. If you have had any operations in the past, or have any medical conditions (like asthma or high blood pressure) or medical devices/implants, please let us know. With advance notice, we can also cater for special dietary requirements (such as vegetarian or vegan diets).
Price includes:
Transport to and from the mountains (1-2 pax: sedan; 3-6 pax: van);
Experienced local, English-speaking mountain guide(s) for the trek;
Ecotax;
Picnic lunch.