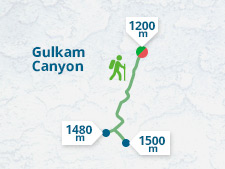 The tour is offered from mid-May until early October.
If you happen to have a free day in Tashkent, spend a day touring Gulkam Canyon and Chimgan, for an adventure and a taste of Uzbekistan's nature. Climb up the pass and get a great view of the Chimgan Mountains, the descend by a rocky pass through a birch wood, and belay through Gulkam Narrow, the most interesting part of the trip. The walls of the canyon are so tall here that daylight only reaches the bottom at midday. During fair weather, Gulkam Canyon is the best tour to try something new and head out on a unique adventure.
Tour itinerary:
9:00-11:00 Transfer to Chimgan.
11:00-12:00 Start hiking at 1600 m. by an intensive hour-long ascent (+220 m) to Gulkam pass (1820 m) by the good path through bushes of wild trees and shrubs. From the top of the pass you can see another side of the pass and get a bird's eye view of the Gulkam mountain river.
12:00-13:00 Descent from the pass to the canyon. The road passes through the small birch grove, where you will stop to have a rest and lunch (1550 m).
13:00-15:00 Lunch.
15:00-17:00 Walkthrough the gorges. It will be unforgettable time. We will overcome small waterfalls and will go ford the river sandwiched between rocky shores and enjoy the unique views of the steep canyon walls. The gorge, by itself, is a narrow (up to 5 meters) rocky corridor, the length of which is around 100 meters. There are 14 river crossings you will take either fording the river or jumping from stone to stone. There are three picturesque waterfalls located here. The passage though these waterfalls is a highlight of this route. At the еxit from the canyon, our driver will be waiting for us.
17:00-19:30 Return to Tashkent. Photo stop on the way at Charvak water reservoir.

Note: If adverse weather conditions occur, guides reserve the right to adjust the route in order to ensure the safety of tourists.
NB: this trip does not require any special gear, but during the tour you will have steep ascents and descents. If you have had any operations in the past or have life supporting devices/implants (like prosthetic cardiac valve) or have any health conditions (like asthma, high pressure), any special dietary requests or restrictions including vegetarian/vegan diet, please let us know.
Price includes:
Transport to / from the mountains (1-2 pax – sedan; 3-6 pax –van);
Service of mountain guides;
Picnic lunch.