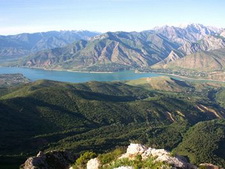 The Chimgan Mountains and Charvak Reservoir are popular spots outside of Tashkent, both for locals and visitors. Just two hours is enough to leave the city and head out into the wilderness. Breathe clean mountain air, sunbathe, hike, or have a picnic while surrounded by picturesque mountains. Discover the best sights around Tashkent with this tour to the Chimgan Mountains and the Charvak Reservoir, some of our favorite vacation spots outside the city.
Tour itinerary:
In the morning, depart to Chimgan Mountains (80 km, ~2 h.). You will be driving the road lying in picturesque surroundings full of local villages, gardens, and streams.
There are 2 options for cable car ride on this tour. One is an old Beldersoy resort and another one is a brand new Amirsoy resort. The different is that when you reach the peak at Beldersoy there is more space walk around along the mountains and there are no cafés or coffee shops at that area (approx. 3usd). If the cable car is functioning, take 3 km long ride in Beldersay gorge to Kumbel peak (2400) where the longest ski track has its start (Please, note that the cable car may not function during the weekdays and expect long lines on Saturdays and Sundays). Have a walk in mountain area. When you reach the peak at Amirsoy resort there is little space to walk around, however there are many cafés/coffee shops options on the site (cable car fee 7-12usd).
Continue to the shore of Charvak reservoir, surrounded by green mountain flanks. With numerous resorts, beaches, and children summer camps, Charvak Lake is a favorite place of locals and foreigners to enjoy summer days outside the city. Drive down serpentine road to have lunch at a local restaurant. On the way make few photostops at the most picturesque landscapes.
Return to Tashkent after lunch. Drop off at the hotel.
Price includes:
1. Transport throughout the tour (1-3 pax – sedan; 4-6 pax – van);
2. Lunch;
3. English speaking guide to accompany the group of 4pax and more.
Price excludes:
1. Cable car fee.