Army Day in China (formation of People's Liberation Army)
The grand parade to celebrate the Chinese Army Day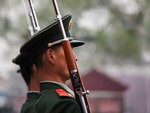 The PLA is the People's Liberation Army of China. The People's Liberation Army of China was formed on 1 August 1927, though at that time it was called the workers and peasants' revolutionary army.
In 1927, the struggle between the Kuomintang led by Chiang Kai-shek and the Communist Party of China has reached its climax. Those, who disagreed with the Chiang Kai-shek's policy, formed a revolutionary communist bloc. Much of the militaries joined them.
In August 1927, the militaries proceeded to decisive action. Nearly 30,000 soldiers led by the leaders Zhou Enlai and Liu Bocheng opposed the Chiang Kai-shek's policy, rousing the people to revolt in Nanchang.
The Communist Party of China upon establishing its authority decided to immortalize this day in history, awarding it a status of a national holiday. On 30June 1933, 1 August was officially recognized as Army Day in China. In 1946 the workers and peasants' army was renamed into the Chinese People's Liberation Army.
As of today, the PLA consists of the air and naval as well as ground forces, and also engineering corps of China.
In the past, the celebration of this date was accompanied by grandiose parades that took place in Tiananmen Square in Beijing, however, no this holiday is celebrated only by the military contingent.