New Year (1 January)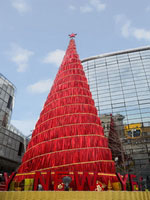 New Year is one of the favorite holidays for people all over the world. Millions of people around the world celebrate this festival on the night of 31 December to 1 January. China began celebrating New Year only in the XX century, when the Communist Party of China (CPC) rose to power. 1st January in China is a public holiday.
New Year, traditional around the world and observed on the night of December 31/ January 1 is not so significant for the Chinese, as Chinese New Year, which falls on the 1st day of the lunar calendar or Qingming festival. These holidays, considered as family ones are celebrated among the closest people. Traditional Chinese festivals arranged to celebrate the occasion are rich in customs and traditions. They are very often accompanied by beautiful ritual ceremonies.
In its turn, New Year by the Gregorian calendar is celebrated in China, too, but compared to other national holidays it is not particularly important. For example, the Chinese do not attach much importance to Christmas tree and other attributes natural for New Year. The Chinese usually spend 31December with friends or in corporate parties, arranged by large companies. By 12:00PM the Beijing residents gather in the city main square - Tiananmen to enjoy stunning and spectacular fireworks on the background of the Forbidden City.
Thus, when the whole world has celebrated this holiday, the Chinese, having paid tribute to the international tradition, begin preparing hard for New Year by the Eastern calendar. Chinese New Year comes with a new moon in late January-early February. This day, they light millions of traditional red Chinese lanterns, render salutes and play off fireworks, which according to popular belief, scare away evil spirits. This is the main and favorite holiday in China, celebrated in a big way for 15 days.