March 8 - International Women's Day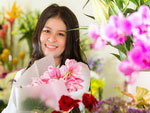 8 March in many countries around the world is International Women's Day. In countries with communism-based political system, as well as in the post-Soviet space, this day is a public holiday and a day off. In western countries, this holiday, though not so important, is also celebrated as International Day for Women's Rights and International Peace, dedicated to the achievements of women in political, economic and social spheres of life (according to the UN resolution).
The holiday history starts at the end of the XIX century, when women began an active struggle for their rights. The first steps in this struggle were made on 8 March 1857 in New York City by the female workers of sewing and shoe factories during demonstrations for their rights. They demanded better working conditions for women and decent pay as men had. This demonstration marked the formation of the first women's trade union. This was the signal for the start of one of the key moments in the history of emancipation - granting women's suffrage.
The idea to celebrate International Women's Day, was put forward first by Clara Zetkin at the conference of women-socialists in Copenhagen. In China, this holiday is directly connected with the rise to power of the Communist Party in 1949; officially it is celebrated since 1965. However, in contrast to the post-Soviet countries 8 March in China is not a public holiday, but just a shorter working day.
This day, the country holds meetings, festive events and awarding ceremonies, while men present women with gifts and flowers. But 8 March in China is more political in nature. This official holiday is a tribute to communist ideology adopted by China.