Qingming - All Souls' Day
Qingming Festival - Day of Purity and Clarity of Thought in China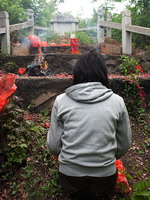 Spring in China is associated with the revival. However, it is spring when China celebrates one of the most important Chinese holidays Qingming - All Souls' Day. Sometimes it is called the day of purity and clarity of thought, since Qingming is translated as "pure light".
Qingming festival dates back to the II century BC. Qingming is observed in early April. These days, the Chinese went to remember all the dead, and make trips to the country. By tradition, this day people light candles and lay flowers on the graves of their ancestors. One of the main traditions is the burning of "sacrificial money" in honor of the dead.
Nowadays, during this holiday the people remember the fallen heroes more often. The people come to lay wreaths and light candles on the graves of national heroes and warriors who died for the happiness and prosperity of China.
Another name for Qingming Festival is Day of walking on the first grass. This day hundreds of Chinese people go to the country to watch the rebirth of nature. Girls and women gather flowers and herbs. Here and there in the meadows covered with spring flowers, you can see resting people at the picnic.
This day the Chinese like to fly paper kites, watch street performances and fly lanterns, with candles lit in honor of fallen heroes. In the evening, if you happen to find yourself at one of the folk festival, you will watch an unforgettable picture - hundreds of burning lanterns, flying against the starry sky.