1 May - International Workers' Day
May Day holidays - the best time to visit China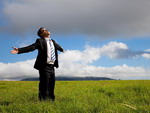 China has several public holidays of national character. These holidays include 1 May - Labor Day. Until 2008, this holiday was celebrated for seven days, however later the Chinese government decided to reduce the number of off-days to three in favor of other traditional Chinese holidays.
The history of International Workers' Day in China started in 1919, when the intelligentsia initiated insurgencies in Shanghai. Later, in 1920, Beijing and Shanghai held the first-ever demonstration in honor of all workers. Officially, this holiday was established and approved by the Chinese government in 1949.
During the "cultural revolution" May Day in China was considered, almost the most important holiday in the country. Amplitudinous rallies and demonstrations across China were organized to celebrate this Day. The holiday was more of a political character. However, at the end of XX century, the situation changed dramatically.
Today Labor Day in China is a sort of a cheerful family holiday. During these three days of holidays, the Chinese go to the country, meet friends, and attend solemn events. Many people visit theaters and exhibitions. The streets of the Chinese cities hold demonstrations and performances.
May Day holidays is the best time to visit China, because at this period of year, the government gives permission for discounts. Not only can you visit the main attractions of the country at discounted prices, but also to go shopping.