National Day– the Country's Main Holiday
October 1 – National Day of the People's Republic of China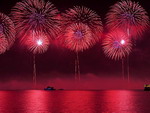 National Day of the People's Republic of China is the country's main holiday. Every year on 1 October China celebrates the anniversary of this outstanding event in the country's history. 1 October 1947 has closed a chapter on the struggle of the Communist Party of China led by Mao Zedong against the Kuomintang, led by Chiang Kai-shek. The whole milestone of China's history ended with the Mao's great victory, which started a new era in the history of China.
This holiday, in the first decade after the PRC formation, was celebrated with grand military parades, held in the central Square of Heavenly Peace in Beijing. Early in the 60-s of the XX century, the parades were held only on good round figures. After the Cultural Revolution the parades in honor of PRC National Day have been completely eliminated, but at present, this tradition has revived once again.
If you visit China in early October, you will be able to see not only the parade in honor of the country's formation, but also enjoy unforgettable performances and celebrations, held within 7 days, starting from 1 October. This so-called "golden week" is one of the three, held annually in China in honor of important holidays and considered days-off for the whole country.
Within five days the country holds different celebrations, festivals, street performances. Magnificent fireworks are arranged all over the country; however, the most unforgettable spectacle awaits you in Beijing. Literally speaking, all the streets are decorated with traditional Chinese lanterns, figures of mythical dragons and floral arrangements. After the parade the main square -Tiananmen holds colorful and spectacular traditional Chinese performances.