Bayanaul, Kazakhstan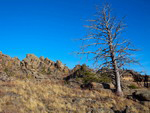 Pavlodar Oblast, is famous for its magnificent Bayanaul National Natural Park – one of the most picturesque places of the country.
It is situated in 100 km from Ekibastuz, industriously developed city.
This National Park represents four kinds of vegetation – forest, forest-steppe, steppe and meadow.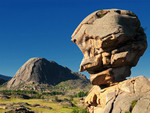 In the south-western parts of Pavlodar, on the right bank of the Irtish, there is a unique place on our planet – natural site called the Goose Migration.
Palaeontologists found remnants of giraffe, rhinoceros, hyenalike animals and hipparirion (a small horse), living here 7-10 million years ago.
The total amount of the found fossils is considerable. They, as it seems, belong to thousands of species.