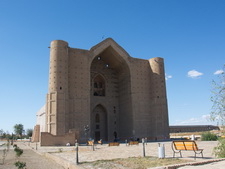 Weekend tour to Turkestan and Shymkent will introduce you to the prominent figure of poet and sufi Hodja Ahmed Yassavi. In Turkestan, the historical centre of the South Kazakhstan you will visit a mausoleum of Ahmed Yassavi. And in the village Sayram, not far from Shymkent, you will have an excursion to the mausoleum of Yassavi's mother and father. At the end of the tour you will visit "Adam and Eva's rock" and have a walk to the healing water spring.
Depart from the train station in Almaty. In the afternoon arrive in
Turkestan
. The guide and driver will meet you at the train station. Start sightseeing Turkestan. Visit Azret-Sultan historical - architectural complex,
Khoja Ahmed Yasawi mausoleum
, Turkestan town necropolis, oriental baths and underground mosque. Overnight at the hotel.
Early in the morning transfer to
Shymkent
. On the way visit Arystan-Bab (Khoja Ahmed Yasawi's teacher's mausoleum) and Otrar town excavations. Arrive in Shymkent. The rest of the day sightseeing to Sayram village: "Ibragim-Ata" mausoleum of Khoja Ahmed Yasawi's father; "Kharashash-Ana" mausoleum of Khoja Ahmed Yasawi's mother; Middle ages minaret. After lunch continue sightseeing to Kazygurt village. In the evening transfer to Shymkent railway station. Take a night train back to Almaty. Overnight in the train. Arrive in Almaty. End of the tour.
Transport throughout the tour;
Accommodation at Turkestan hotel (1night) based on double room sharing, including breakfast;
Meals full board;
2nd class tickets for train Almaty – Turkestan, Shymkent – Almaty;
Sightseeing tour program in each city with English speaking local guides;
Entrance tickets to the sights, museums, mausoleums;
Bottled water 1.5l per person a day.
Accommodation in Almaty;
Hotel-train station-hotel transfers in Almaty;
Personal travel insurance;
Visa Support;
Tips are not included, but would be appreciated;
Alcohol and soft drinks.
Accommodation:
Turkestan - 1 night
Khanaka