Stroganov Palace, Palaces of Saint-Petersburg
Stroganov Palace, the Haunted House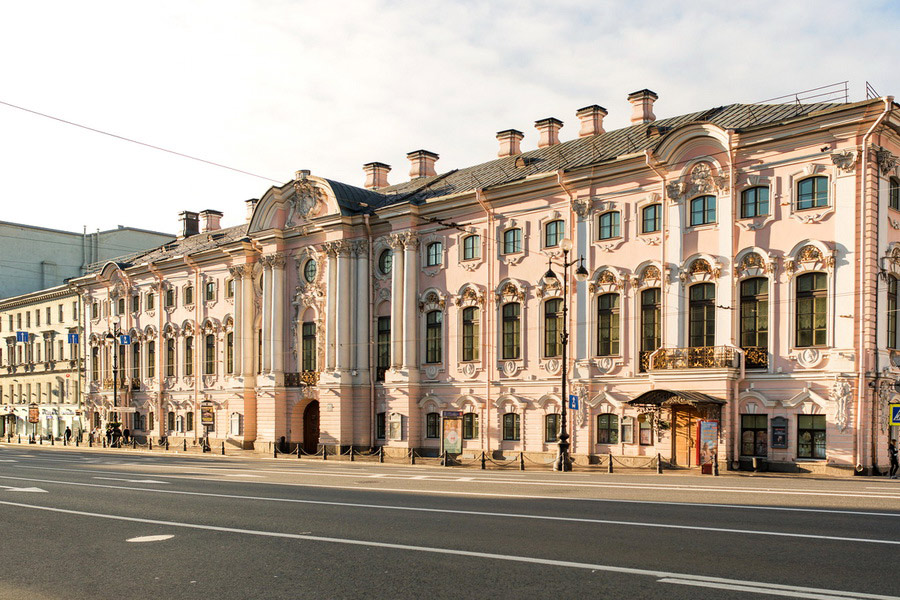 source: museum.ru
The jewel of Nevsky Prospekt is Stroganov Palace. The famous architect Bartolomeo Rastrelli embodied all the splendor of Baroque style in his creation. The great architect built it in 1754. The palace became a true masterpiece captivating with its inexplicable charm and elegant luxury. Stroganov Palace in incomprehensible manner combines the nobility and modest elegance of an aristocratic monastery. The entire building is distinguished by the strictness of composition and adherence to the style. Especially amazing is the main facade facing the Nevsky Prospekt. Magnificent columns standing on pedestals and supporting pediment bearing Stroganov's coat of arms highlight its central part. The impression of magnificence is intensified by the sculptural decoration framing the windows.
Baroque style was used not only for the palace exterior of the palace, which remained unchanged. The abundance of marble and gold speaks of wealth and taste of the owner. By the way, about the hosts. The history of the palace is rater complex but interesting. In various times it was owned by various well-known people. Its main owners, Baron S.G. Stroganov and his son, Count A.S. Stroganov were educated art connoisseurs and collectors.
In 1918 the palace was nationalized, the collection of paintings was partly sold and partly transferred to the Hermitage. In 1918-1925 in the palace was used as the Museum of Folk Life, afterwards it was occupied by various offices and agencies. In 1988 the palace was given to the Russian Museum.
The Russian Museum spent a lot of efforts to revive the palace and restore its original appearance. Several rooms are open for visitors who can see various exhibitions of art collections, including the ones from the Russian Museum.