Menshikov Palace, Saint-Petersburg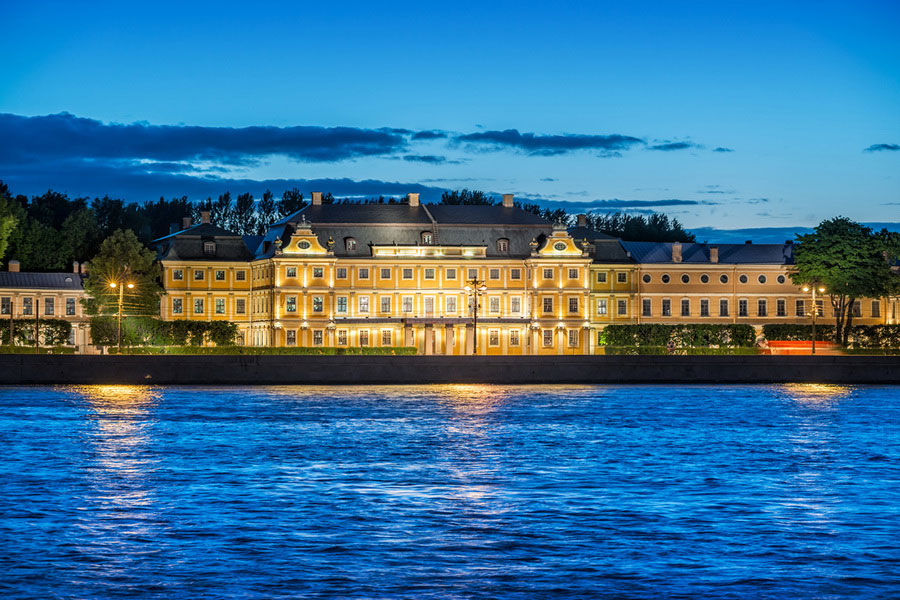 The magnificent Menshikov palace on the University Embankment brings you back to the glorious era of Peter the Great, the time of birth of the city on the Neva River. The Palace became one of the first luxury buildings in Saint Petersburg. The tall green roof crowns the huge bright yellow three-storey building. The main entrance is decorated with mighty columns. The sides of the palace symmetrically protrude and are crowned with elegant decorative pediments. The pilasters with carved stone capitals, windows platbands give the facades splendor and elegance. The construction of the palace began in 1710. Czar Peter I built it for his favorite and associate - the first Governor General of St. Petersburg, Alexander Menshikov. The size and rich decoration of the palace surpassed all the other buildings of St. Petersburg.
Menshikov Palace was the «face» of the Northern Capital: all the foreign ambassadors and guests of honor were received there. The palace was a place where lush celebrations and assemblies were held. An extensive garden stood behind the palace.
After Menshikov fell into disgrace and was exiled to Siberia, the palace was handed over to the Cadet Corps. The palace had been repeatedly rebuilt but the 1960s the reconstruction of the palace returned it the original interior of Peter's time. And now, visitors can plunge into the aristocratic atmosphere of those times. The decorations of most rooms have survived. For example, the favorite Walnut Office of Menshikov was finished with rare wood with applications of brass and tortoise shell. It still has the fresco depicting Peter I as a warrior-victor. Some of the rooms have preserved unique Dutch tiles painted with pastoral scenes. The antique "froze" in the central lobby niches. The interior decoration design includes marble silver, and precious timber, sculptures, decorative painting and even gold. The Palace also features large crystal chandeliers and Venetian mirrors.
The Menshikov Palace hosts a branch of the State Hermitage Museum exhibiting unique artifacts.