Winter Palace, Palaces of Saint-Petersburg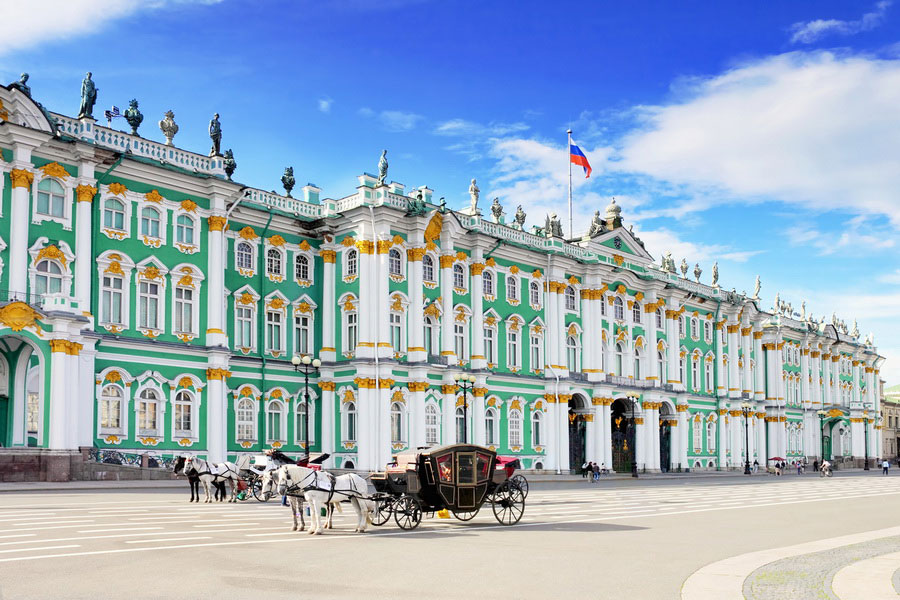 Winter Palace, the music frozen in stone
Unsurpassed Bartolomeo Rastrelli's masterpiece, the Winter Palace in St. Petersburg, is the classics of world architecture. Out of this world beauty of the building is a true piece of «music frozen in stone». The flow of tourists wanting to experience contact with that architectural miracle, to admire the purity of its lines, the nobility of color palette, the elegance and richness of decoration will never cease. The history of the residence of Russian emperors dates back to 1754 when they began construction of this colossal project by Rastrelli. In 1762 the construction of the palace was completed and the Palace Square received the luxurious three-storey building in the Baroque style, which enthralled all the eyewitnesses with its solemnity and elegance. The palace has survived practically unchanged. It was built in the form of a closed quadrangle with a large inner courtyard. Its ornate protruding facade with three arches overlooking the Palace Square gives the palace special magnificent look. Its huge size and height make it dominant over the surrounding area. Numerous white columns either gather to form beautiful compositions or disperse opening windows, which are framed in lacy platbands with lion masks and Cupid heads. The palace grandeur is confirmed by the enormous number of rooms - over a thousand. The upper floor was occupied by court circle rooms. The second – by ceremonial halls and rooms of the members of the Imperial Family. The first floor was intended for service rooms and offices.
In 1837, the violent fire destroyed the entire interior of the Palace. However, the architects managed to restore the authentic interior design.
The majestic St. George or the Great Throne Hall finished in marble, gold and bronze; Peter's, or the Small Throne Hall; the hall dedicated to the memory of Peter I; the heraldic room with gilded Corinthian columns; the Field Marshal Hall with the portraits of Russian field marshals; the Big or St. Nicholas Hall, the most spacious in the palace; the Front Jordan Staircase; the Malachite Room, covered with succulent green of this amazing stone - these are only a small part of the rich interior of the palace.
Being the residence of state authorities, the Winter Palace witnessed a lot of important historical events. In 1917, when the monarchy was overthrown in Russia, and the power came to the Provisional Government, the Winter Palace became its the residence. It was here that the Bolsheviks overthrew the Provisional Government headed by A. Kerensky in the autumn of that year. The Bolsheviks came to power and a new political era began in Russia. After the revolutionary events the Winter Palace was given to the State Hermitage.