Upper Park, Oranienbaum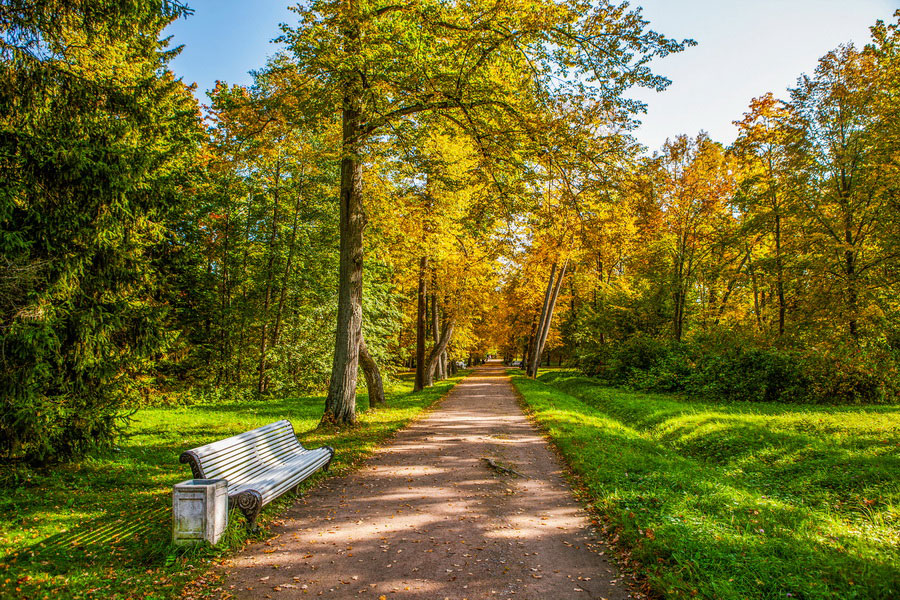 The royal residential complex of Oranienbaum (meaning "Orange Tree"), is one of the most popular tourist attractions near St. Petersburg. Upper Park in Oranienbaum, Russia is a masterpiece of landscape art, covering a substantial area of 160 hectares and considered an integral part of the Oranienbaum Ensemble.
In the mid-18th century, the creation of Upper Park and the construction of the Grand (Menshikov) Palace, now found within the park, began simultaneiously. The head architect of the Grand Palace was the famous Antonio Rinaldi, who also participated in the creation of Upper Park. Initially, Upper Park attracted less attention than the Lower Garden, which served as the main entry point for palace guests and whose smaller size made it a more comfortable option for a short walking tour.
Upper Park is located on the southern side of the Grand Palace and consists of three parts: the Sobstvennaya Dacha (Private Cottage) Ensemble, Petrovsky Park and the Karosta River, which runs through the middle of both parks before flowing into the Gulf of Finland.
The Private Cottage Ensemble includes the Chinese Palace, Chinese Kitchen Pavilion, Kamennoe Zalo (Stone Hall) Pavilion, Katalnaya Gorka (Sliding Hill) Pavilion and the Cavaliers' Room. The Podkova and Karpin Ponds, which feed the fountains in the Lower Garden, are also located in the Private Cottage Ensemble.
Petrovsky Park was originally the site of Peterstadt Fortress, which belonged to Peter III. Unfortunately, only the gates of the fortress have survived to our times. Channels were diverted from the Karosta River to form Oranienbaum's Upper and Lower Ponds in Petrovsky Park, on the latter of which Peter III's Poteshny Fleet was built. Several waterfalls were also created along the river.
The current landscape of Upper Park was developed in the mid-19th century. Initially, the park strictly reflected 18th century trends and consisted of numerous playgrounds and avenues with finely sculptured trees. At the end of the 18th century, major alterations began in Upper Park, which continued for many years and produced the park enjoyed by visitors today.
Upper Park is so picturesque that some compare it to northern Switzerland. It has a carefully thought-out landscape filled with a rich and wide variety of trees and plants. Special charm is added to Upper Park through its numerous sculptures and bridges, the latter of which were initially wooden but later replaced with stone substitutes.
Upper Park in Oranienbaum, Russia is open year-round and attracts a steady stream of citizens and guests from St. Petersburg with its 19th-century atmosphere. A stroll through Upper Park after touring the ensemble's architectural attractions is the perfect way to spend a relaxing and memorable day.