Gur-Emir Mausoleum, Samarkand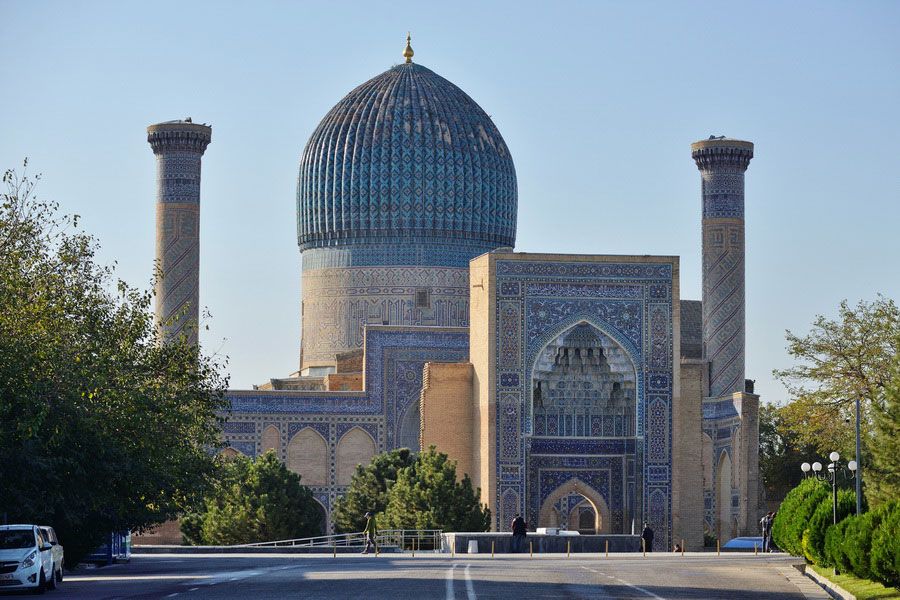 One of the most significant architectural ensembles of medieval East – the Gur Emir was built in the southwestern part of Samarkand at the beginning of the XV century. This majestic complex consisted of a khanaka, the madrasah of Muhammad Sultan - grandson of Amir Timur, and, later, tombs of Amir Timur himself and his descendants.
The madrasah, a small building with a typical yard composition was meant to teach the children Samarkand nobility. Opposite to the madrasah there located a khanaka with a central hall and cells - hudjras. The both buildings were erected by Mukhammad Sultan's order to be become a center of Islamic education. But Muhammad sudden death in 1403 led to a change in an intended use of the complex.
After the death of Muhammad Sultan, Amir Timur was inconsolable: he ordered to put temporarily the remains of his beloved grandson in a madrasah's corner room – darskhana, and immediately started the construction of the mausoleum which closed the ensemble from the south.
The complex courtyard was decorated with a single decorative wall with four minarets located at its corners, while from the north it was decorated with a magnificent entrance portal containing a name of the architecture – Muhammad ibn Mahmud Isfahani.
However, Tamerlane did not live to see the mausoleum finished, he died in winter 1405. The construction was completed by another Tamerlane grandson – Ulugbek. Although Amir Timur already prepared a mausoleum for himself in his native Shakhrisabz, it was Gur Emir that became his tomb and a burial place of his descendants. There rest his two sons – Shahrukh and Miranshah, beloved grandsons – Muhammad Sultan and Ulugbek as well as Timur's spiritual mentor - Mir Said Baraka.
Today, the burial places in Gur Emir Mausoleum are marked with gravestones. The Timur's gravestone, made of a single piece of jade, is located in the center of the tomb. The burials themselves are located below, in the mausoleum basement. The graves are located just in the same way as the gravestones in the hall upstairs. The Timurid tombs were opened only once in 1941, this event generated a famous legend.
The mausoleum is a fine example of medieval architectural craftsmanship. The contemporaries still admire the harmony of its proportions. The ribbed dome and vault walls are completely covered with a mosaic of light and dark blue glazed bricks, gilding and painting. The relief rosettes on the dome imitate a starry sky. The interior is enriched with bar tracery grids in the windows, marble and onyx panels covered with paintings, carving and inlaid with semiprecious stones.
Subsequently, Gur Emir was a prototype for famous samples of architecture of the Great Mughal: Humayun Mausoleum in Delhi and the Taj Mahal in Agra, built by Timur descendants, who ruled northern India.
Today Gur Emir Mausoleum and its entrance portal are renovated by the restorers, but the khanaka and madrasahs, unfortunately, are left only ruins.