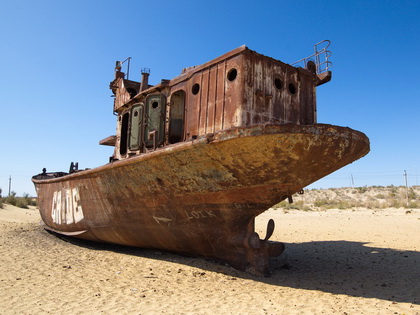 This tour is specially designed for those who, after visiting Khiva, want to see even more! A tour to Muynak from Khiva is a great opportunity to expand the geography of your trip and discover new secrets of Uzbekistan. In two days you will visit the monuments of Ancient Khorezm, a state almost 2000 years old: the Toprak-kala fortress and the Zoroastrian funeral tower Chilpyk. Stay overnight in Nukus, the capital of Karakalpakstan. In Nukus you will visit the Savitsky Museum, which contains unique paintings of Russian avant-garde art that Igor Savitsky hid from Soviet censors in the 20th century, taking them to the edge of the Empire. And then you will go to the finish line – the city of Muynak, which was once a major port, but today is surrounded by a desert for hundreds of kilometers. The fact that there was once a sea here is evidenced only by the sad cemetery of ships. Check out the details of the tour to Muynak from Khiva and hurry up to book this unusual trip!
In the morning depart
Khiva
and drive to Nukus (200 km, 4-hrs). On the way visit archaeological monuments of Ancient Khorezm:
Toprak-Kala
, the capital of Khorezm dating back to the 3rd century A.D. and
Chilpyk
, a Zoroastrian dakhma (funerary tower). Upon arrival in Nukus visit the
Savitsky Karakalpakstan Art Museum
. The museum hosts the world's second largest collection of Russian avant-garde art and exposition of Karakalpak applied arts items. Have a short drive around center of
Nukus
: see statue of Karakalpak poet Berdakh, Nukus City Hall, and Drama Theatre. Free evening. Overnight at the hotel.
After breakfast drive to former fishermen's town
Muynak
(220 km, 3 h), which used to be situated on the shores of
Aral Sea
. On the way stop at archaeological complex
Mizdakhan
. In Muynak have a look at a former port with abandoned ships in the sand also known as the "Cemetery of Ships". Then visit
Local History Museum
with art exhibits of the Aral Sea history. In the afternoon return to Nukus. End of the tour service.
All transfers 1-2 pax by sedan type car; 3-7 pax by mini.van;
Accommodation based on double/twin room sharing, breakfasts included;
Guide at Savitsky Karakalpakstan Art Museum;
Escorted English speaking tour guide to Muynak;
Entrance tickets to sights as per itinerary.
Tour leader to accompany the travellers for the whole period of the tour;
Full board (lunches and dinners);
Hotel charges for additional services;
Tips are not included, but would be appreciated;
Travel insurance.
Accommodation: