Stone Carving, China
Unique thousands years old traditions of stone carving in China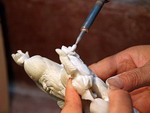 Among the numerous types and trends of Chinese applied arts, stone carving stands out with its elegance and complexity. This ancient form of Chinese arts and crafts has an ancient history and its own unique traditions.
Chinese stonecutters usually use jade, jadeite or jasper as the main material. Creation of an artwork is a very time-consuming process and requires a great deal of experience and skill. First of all the masters-stonecutters choose a suitable stone for the job. The ancient stone-cutters' various art works, ranging from huge statues of deities, carved out of solid rock, to the smallest figurines, where you can see the smallest details, which fact shows the great skill and talent of the Chinese stonecutters have survived up to date.
Very often, the Chinese stone carvers use materials such as turquoise, rock crystal, agate, and amethyst. Most often these materials are used to make jewelry, such as pendants in the form of a dragon or other mythical creatures. These pendants which serve as charms can be found in any traditional market of China.
One of the features of this kind of arts and crafts is that the Chinese masters do not work with a perfectly clear and clean stone. They need unique stones with different color stains, sometimes with roughness and streaks. The best works of art are created from particular these stones.
Before getting down to work, the master is carefully studying the stone so that to use elaborately all its unique features. As a result, what you see is not a stone any more, but a whole graceful composition where the streaks become rivers, while the hollows turn into waterfalls and lakes with magnificent palaces in miniature on their banks.