Wood Carving, China
Woodcarving - openwork patterns and revived characters of ancient Chinese legends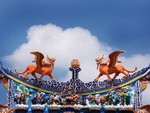 China is a country with a rich past and a multi-faceted culture. Since ancient times, the Chinese civilization was famous for its variety of handicrafts, which today became already real art.
One of the most popular areas in the arts and crafts of China is wood carving. This art form began to develop in the II millennium BC, but it was not until the XIV century, during the reign of the Ming Dynasty, when this art form courted popularity.
| | | |
| --- | --- | --- |
| | | |
During this period, wood carving gained wide spread in decoration of houses, palaces and temples. Carved pillars, walls (sometimes the houses were completely covered with tiles), pictures fully of wood - all these are extant to this day and are an important and significant part of the cultural heritage of China.
China has been traditionally developing in several areas of this form of applied art - gilt woodcarving, boxwood carving and woodcarving itself. Chinese masters do not just cut out patterns; they create unique paintings, beginning from the smallest size to the giant panel picture. They may include totally different subjects, ranging from epic and ending with the abstract ones. The skill and imagination of Chinese artists are endless and all that is left to do is to admire this distinctive art form.
Today, the art of wood carving is one of the most sought after in China. In markets and handicraft shops you can find things of stunning beauty: screens, paintings, jewelry boxes and so on, which can be a bright keepsake of your trip to the Celestial Kingdom.