Barskoon Waterfall, Kyrgyzstan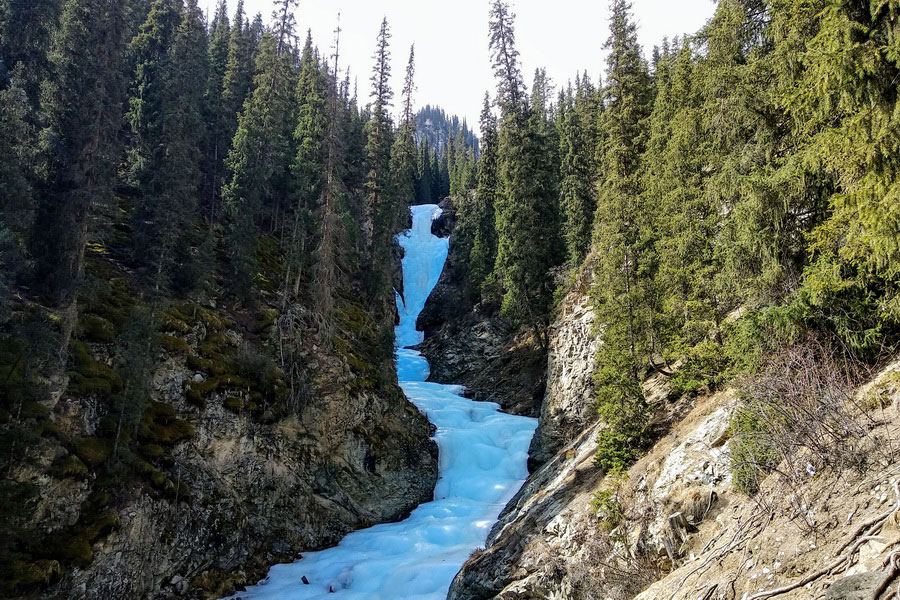 Barskoon and Tamga are twin Kyrgyz and Russian villages at the mouth of the Barskoon Valley, a place known for its waterfall and good trekking and horse riding. Their location near Jeti Oguz makes them easy to reach, and an interesting side trip.
Nearby is the Barskoon Waterfall, one of the most famous waterfalls in Kyrgyzstan. Falling from a height of 24 m (79 feet), this is a spectacular waterfall, and is relatively easily accessible. There are also several other smaller waterfalls nearby.
The 11th century scholar Mahmud al-Kashgari (also known as Barskhani) was a native of this area. He is best known as the author of the first comparative dictionary of the Turkic languages, which he wrote while living in Baghdad in 1072-4. His map of the then-known world has Barskoon at the center of the world.
The road from Barskoon (A364), which passes up the Barskoon Valley, used to be one of the routes of the Silk Road, passing over Bedel Pass (4,284 m or 15,055 feet) into China. It is now the main road leading to the Kumtor Gold Mine, which means that it is well-maintained and has a lot of traffic, including trucks going to the mine and back.
There are two interesting monuments along the road in Barskoon: a Soviet truck mounted on a wide pedestal, and a bust of Yuri Gagarin, who vacationed on the south shore of Issyk-Kul after his historic first manned flight into space. To the southwest of the villages is a barrow, or burial mound, dating from between the 5th and 3rd centuries BC, and measuring 20 m (65 feet) in diameter and 2 m (6.5 feet) tall. There are also the remains of an ancient Silk Road settlement, which served travelers going on the road from Bedel Pass to China, dating from the 8th to 12th centuries.
In the mountains to the east there is a region known as sytyr, or an alpine cold desert. In Soviet times, the road turned east along the upper Naryn River and looped around over the Yshtyk Pass (3,689 m or 12,103 feet) to Ak Shyrak, Inylchek and eventually back to Karakol. Unfortunately, now some of the bridges are down and the road (never an easy route) is no longer passable.