Monument to Admiral Makarov, Kronstadt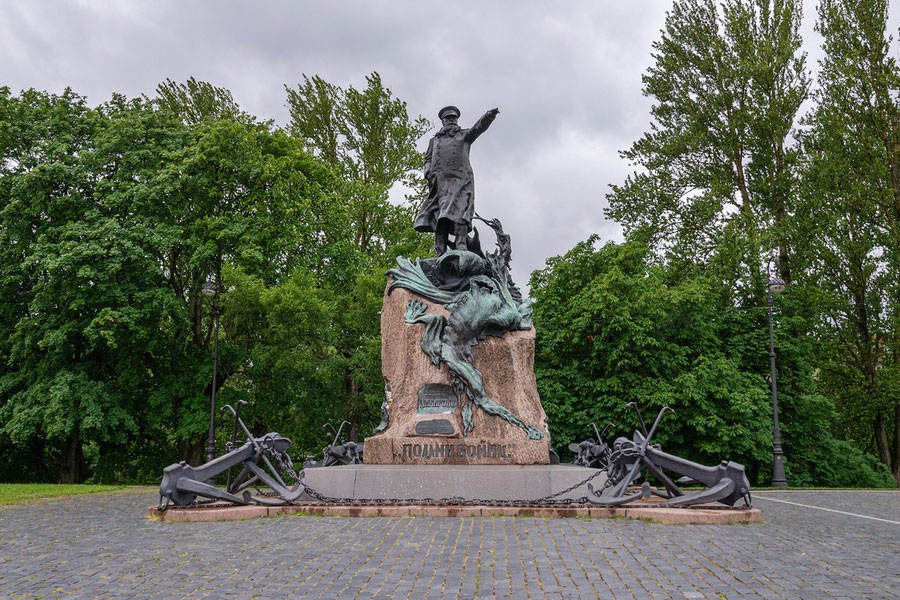 The Monument to Admiral Makarov in Kronstadt, Russia has been guarding the peace of Anchor Square and Kronstadt Naval Cathedral for more than a century.
Stepan Makarov (1849-1904) was a great naval commander and a hero of the Russo-Turkish War, an oceanographer and a laureate of the Russian Academy of Sciences. Makarov oversaw the creation of the world's first polar icebreaker, known as Yermak.
In December 1899, Makarov was appointed Military Governor and commander of the port. After the start of the Russian-Japanese War of 1904-1905, Makarov became commander of the Pacific Squadron. In 1904, when the battleship Petropavlovsk was blown up, Makarov failed to escape and died at the age of 54. The deceased commander was held in high regard by his officers, who proceeded to raise funds for the construction of a monument to Admiral Makarov in Kronstadt.
The granite pedestal of the Monument to Admiral Makarov has an incredible history in itself. Initially, the block was delivered from Finland to St. Petersburg as the base for a monument at Kazan Cathedral in St. Petersburg, but during transportation the stone sank. It lay at the bottom of the sea for several decades before being remembered and appointed for use for the Makarov Monument. In 1911, during the exhumation of the six-ton monolith from the water, the upper portion of the stone broke off. As a result, the lower half of the stone was used for the monument on Anchor Square and the upper half was placed in Petrovsky Park.
The natural shape of the granite block used for the Admiral Makarov Monument was not altered, a decision which impacted the tone of the entire statue. The power of the stone emphasizes the strength of Admiral Makarov, who is represented by a 3.5-meter-high bronze figure with his hand raised. On the stone, a wave in the shape of a Japanese dragon climbs to his feet. Makarov's favorite phrase, "Remember the War", is stamped on the base, as well as a poem commemorating the Admiral's death. Bas-reliefs depict significant episodes from his life, and the statue is crowned with real anchors and chains.
The Monument to Admiral Makarov in Kronstadt was unveiled in 1913. Since then, it has become an important landmark in the island city. Students from the Admiral Makarov State University of Maritime and Inland Shipping are initiated into cadets in front of the figure, and young sailors swear allegiance to their homeland before the statue of the courageous hero.