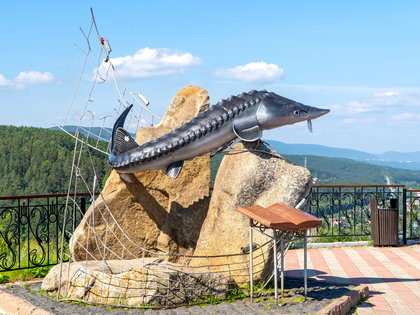 Tour itinerary:
The guide and driver will pick you up at your hotel and bring you back.
The excursion to the Krasnoyarsk Dam, visiting the Ovsyanka Village (homeland of a writer Viktor Astafyev).
The Krasnoyarsk Dam is the energetic centre of Siberia and is the second largest power station in Russia. There is also the Krasnoyarskoye reservoir, which was created as a result of the damning. The reservoir has an area of 2,130 km2, and the volume of 73.3 cubic km, and is called among local people as "the Krasnoyarsk sea".
Visit "the Czar Fish" viewpoint, located on the Sliznevsky rock, next to the village of Ovsyanka.
Ovsyanka was the homeland of the internationally known writer Viktor Astafiev. In 2004 a monument to the Yenisey sturgeon was created, after his novel "Czar Fish" (devoted to men and nature). The monument is made of metal, 4 m long and 300 kg in weight.
Visit the estate memorial of Victor Astafiev. There are a library, collected by the writer himself, and the house of Astafiev's grandmother, which played major role in his life.