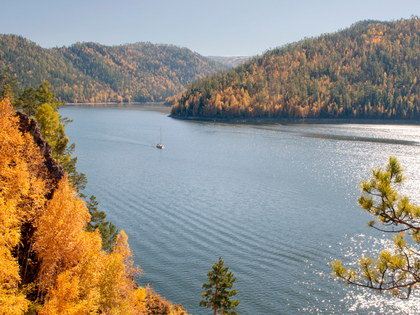 Tour itinerary:
The guide and driver will pick you up at your hotel and bring you back.
On this guided city tour you will be walking through downtown Krasnoyarsk. First, you will walk along the most remarkable streets of the city: Mira and Naberezhnaya avenues, where one can admire beautiful view, overlooking the Yenisey River. Then, you will see the Mira Square, where there is located the monument to "the Russian Columbus", commander Ryazanov.
After that you will visit Paraskeva Pyatnitsa Chapel, which became the symbol of Krasnoyarsk, built in 1865 in the unique "Russian-Byzantine"style. Visit the Holy Annunciation Church (built in 1795) and other 18 century historic landmarks, such as memorial estates of Krasnoyarsk merchants and philanthropists.
Visit the "St Nicolas" steamship an open-air museum, the Teatralnaya square where you will see the monument to Anton Chekhov, numerous fountains and the Apollo's Column.
Visit the Local History Museum, founded at the end of 19th century and having more 450 thousand displays. This Museum has the status of an "object of special value".
Transfer back.