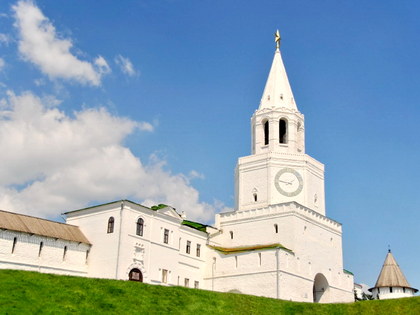 Tour itinerary:
The guide and driver will pick you up at your hotel and bring you back.
You will do sightseeing around historic Kazan. Visit the ancient Kazan Kremlin, an outstanding architectural complex of the 16th -18th centuries, included in the UNESCO World Heritage Sites. There, in Kremlin's territory, you will see the Soyembika Tower (the architectural symbol of Kazan), the Blagoveschensky (Annunciation) Cathedral (AD 1562), the Spasskaya tower, the Qolsharif Mosque (the largest in Europe, built to commemorate the anniversary of Kazan's millennium), the President Palace (a former governor's palace, built in 17th century and rebuilt in both the 18th and 20th centuries). The Kazan Kremlin is the main landmark of Tatarstan. One can learn the regional history and visit the modern exhibitions, and there are a number of museums and galleries.
Visit the Petropavlovsky Cathedral (AD 1726, built in the honour of Peter the Great's 50th year's anniversary), nearby is the Kazan University (which recently celebrated its 200th anniversary). You will walk along Bauman Avenue (the finest street in the city).
Transfer to the Blue Lake (12.43 miles from the city of Kazan). The lake is situated in the Vysokogorskoye forestry. This unique lake never freezes, due to the large amount of natural hydrogen sulfide within.
Transfer back.