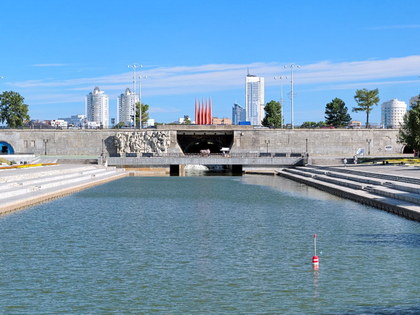 Tour itinerary:
The guide and driver will pick you up at your hotel and bring you back.
Walking tour of Yekaterinburg. During this tour you will see the historic center of Yekaterinburg (old estates and buildings) and Iset River bridges, each of three hundred years old (the Historic Square bridge, the Arboretum bridge, the Tsar bridge)
You will see the Yekaterinburg circus, built in the Soviet Constructivism style, monument of the computer keyboard (a symbol of modern communication). This monument is a favorite place of the townspeople (the keyboard's length is 12 m and keys' measure 30x30 cm).
Visit the regional museum where you will sea the Shigir Idol, the most ancient wooden sculpture in the world (7.500 BC). The Museaum of Icons where you may find more than 300 unique Russian icons of different schools (since XVI century), you will see both printed and hand-written ancient service books, and unique collection of embroidered, silver and bronze icon frameworks.
Then visit the diving-club (in summer time) or ski resort (in winter time).