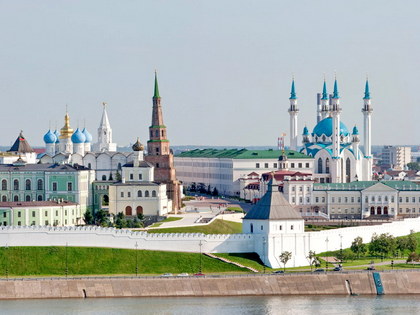 Tour itinerary:
The guide and driver will pick you up at your hotel and bring you back.
During this city tour you will visit the fortress and museums of the Kazan Kremlin. Visit the Blagoveschensky Cathedral, built in 1562 by the famous architect Postnik Yakovlev (the architect of St Basil's Cathedral in Moscow). It was built right after the capture of Kazan.
Visit the Qolsharif Mosque, which includes the 8 minarets and is situated within the Western part of the Kazan Kremlin. The Mosque's dome is decorated like the Kazan khan's crowns.
Within the Kremlin's territory here are "the History of the State system of Tatars and the Republic of Tatarstan Museum" memorial complex, "the Natural History Museum of Tatarstan" and the Hermitage Kazan centre and others. It's possible to do some shooting from an "arbalest" on the Pushechny dvor (a medieval shooting-range).
Transfer to the Raifsky Nature Reserve, located 12.4 miles from Kazan, on the left bank of the Volga River. Visit the Raifsky Bogoroditsky Monastery, which was built in the 17th century, on the order of Tsar Alexis I. The Monastery was given all the surrounding lands. It was thought to be a big sin to hunt in the monastery's lands, that's why the unique forests with its fauna is well preserved to the present time, 300 years later.
Sailing down the Volga River. Transfer back.