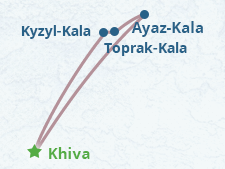 Ancient Khorezm is a unique touristic destination in Uzbekistan that haven't been discovered by masses yet. However, the number of tourists is increasing: this region is a real gem for archeologists, where there are dozens of fortresses built more than two thousand years ago. Although the desert and the time had not mercied them; as mud walls are washed out and mounted with sand; and from some buildings there are only tracks of foundation left, you can still feel blurred rows of embrasure for defense. If you are in Khiva, take your chance to touch the history of the Ancient Khorezm.
Tour itinerary:
Khiva – Fortresses of Ancient Khorezm – Khiva
Our guide and driver will meet you at your hotel in Khiva at 09:00. Trip to Kyzylkum Desert (150 km, 1,5-2 h) and visiting of archaeological monuments of Ancient Khorezm: you will visit Kyzyl-Kala - a unique monument of Ancient Khorezm architecture relevant to Kushan- Afrigid period of antique history, Toprak-Kala -ancient settlement which was the capital of Khorezm in the III century AD. Not without reason Toprak-Kala is called "the museum of fine arts of Ancient Khorezm". It is the only completely dug out monument of architecture of Khorezm. Its sizes and genius of architectural design make Toprak-Kala one of the most unique monuments of Khorezm. There is a legend that the ancient subterranean passage connects Toprak-Kala and Kyzyl-Kala. It is quite possible that Kyzyl-Kala carried out the protective functions. Then we'll visit one of the largest fortresses of Ancient Khorezm – Ayaz-Kala, II century AD, relevant to the period of Kushan Empire prosperity. Ayaz- Kala was neither a city nor a settlement, it was a fortress complex where nearly 19 centuries ago boundary groups of Kushan dynasty settled down. Return to Khiva.
Duration of tour: 5-6 hours; sightseeing will take 2-3 hours.
Price includes:
Guided sightseeing tour;
Transport throughout the tour;
Entrance fees to the sights.
Price does not include:
Lunch.**
** We recommend you to take lunchboxes for this trip as there are no cafes in the desert.