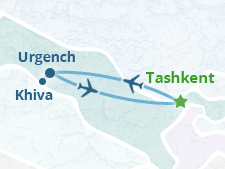 The cultural two-day Khiva tour (from Tashkent) with its innumerable mysteries and enigmas will be an unforgettable adventure for true connoisseurs of refinement and antiquity of the East. The Museum Town, aged more than 2500 years old, once being one of the most important center on the Great Silk Road route, the "Eighth Wonder of the World" – all this is about Khiva, the pearl of the Khorezm Oasis. One of the most beautiful cities of the world meets travelers with gloomy grandeur of the Itchan-Kala Fortress, an ancient eastern town, which exists outside the time. Book 2-day Khiva tour to explore well-preserved old-time bitten cob constructions and famous architectonic monuments.
Transfer from the hotel in Tashkent to the domestic terminal of the airport. Morning flight to Urgench. Arrival in Urgench, transfer to the hotel in Khiva (30 km, 35 min.). Guided excursion in Khiva. Sightseeing of
Itchan-Kala
protected by UNESCO. The places to visit in the Itchan-Kala:
Kunya-Ark
,
Alauddinkhan Mausoleum
,
Mukhammad Aminkhan madrasah
(XVIII century), Ak-Maszhid mosque, madrasah of Khoja Berdibiy,
Shirgazikhan
,
Pakhlavan Makhmud Mausoleum
,
minaret of Islam-Khoja
,
Juma Mosque
(XVIII century),
Tash-Khovli Palace
,
Allakulikhan madrasah
. Free time in the evening. Overnight at the hotel.
Our guide and driver will meet you at your hotel in Khiva at 09:00. Trip to Kyzylkum Desert (150 km, 1,5-2 h) and visiting of archaeological monuments of
Ancient Khorezm
: you will visit
Kyzyl-Kala
- a unique monument of Ancient Khorezm architecture relevant to Kushan- Afrigid period of antique history,
Toprak-Kala
-ancient settlement which was the capital of Khorezm in the III century AD. Not without reason Toprak-Kala is called "the museum of fine arts of Ancient Khorezm". It is the only completely dug out monument of architecture of Khorezm. Its sizes and genius of architectural design make Toprak-Kala one of the most unique monuments of Khorezm. There is a legend that the ancient subterranean passage connects Toprak-Kala and Kyzyl-Kala. It is quite possible that Kyzyl-Kala carried out the protective functions. Then we'll visit one of the largest fortresses of Ancient Khorezm –
Ayaz-Kala
, II century AD, relevant to the period of Kushan Empire prosperity. Ayaz- Kala was neither a city nor a settlement, it was a fortress complex where nearly 19 centuries ago boundary groups of Kushan dynasty settled down.
Transfer to Urgench airport by 18:00. Evening flight to Tashkent. Arrival in Tashkent and transfer to the hotel/private residence. End of the tour.
Accommodation based on double/twin room sharing, breakfasts included;
Economy class ticket for flights Tashkent-Urgench-Tashkent;
Guided sightseeing tour;
Entrance ticket fees to the sights as per itinerary;
All transfers to/from airports.
Tour leader to accompany the travellers for the whole period of the tour;
Full board (lunch and dinner);
Hotel charges for additional services;
Personal travel insurance.
Accommodation: