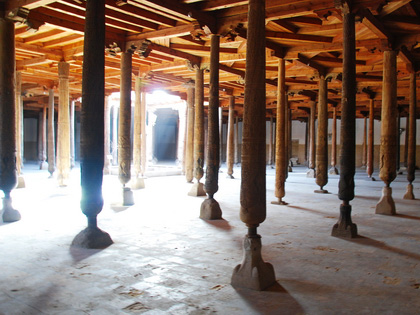 Khiva is a magical city, a maze of clay buildings and winding alleys, all surrounded by a thick fortress wall. The center of the city is a fortress, called Ichan-Kala, that has housed several thousand people in a medieval city for centuries. There are a number of outstanding buildings, including Kalta-Minor, a fat and short minaret decorated with intricate blue tiles, and Juma Mosque, whose ceiling is supported by 213 carved wooden columns with different designs. But perhaps the best reason to tour Khiva is to just experience the city as a whole. Khiva has retained its medieval feel, though there are people living inside its walls to this day. On this one-day tour, it's easy to imagine the ways that merchants must have walked through the same streets as you yourself take this walking sightseeing tour of Khiva.
Tour itinerary:
A guide will meet you at the hotel in Khiva, which is a starting point of the city tour. Spend a day in Ichan-Kala Fortress, a UNESCO World Heritage site, living museum under the open sky. Take a walking sightseeing tour in Khiva with a guide: visit Tash-Khovli Palace, Mukhammad Aminkhan Madrasah, Mukhammad Rahimkhan Madrasah, Kalta-Minor, Juma Mosque, Pakhlavan Makhmud Mausoleum, Minaret of Islam-Khoja.
Duration of sightseeing tour: 5 hours
Price includes:
Guided sightseeing tour;
Entrance fees to the museums, mausoleums and other sights.