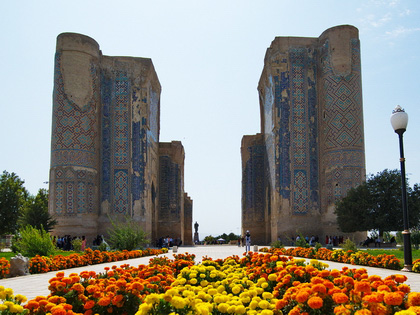 Explore the birthplace of Timur, the legendary warrior and founder of the Timurid Empire. Today, Shakhrisabz is home to the ruins of Timur's palace, Ak-Saray, which took 24 years to build, and the tomb of Dzhahongir, Timur's favorite son. Finish up the tour with the Kok-Gumbaz Mosque and the Dor-ut Tilavat Ensemble, dedicated to a religious leader of the region.
Tour itinerary:
Our guide and driver will meet you at your hotel in Samarkand. Depart Samarkand and drive to Shakhrisabz (90 km, 2 h.). Have a short city tour in Shakhrisabz. Visit Mausoleum of Jakhongir in Dor-us Saodat Memorial Complex, remains of Ak-Saray Palace, Dor-ut Tilavat Ensemble with Kok-Gumbaz Mosque and burial vault of Tamerlane's father. In the afternoon return to Samarkand. End of the tour.
Duration of sightseeing: 2 hours
Duration of the tour: 6 hours
Price includes:
Guided sightseeing tour;
Entrance fees to the museums, mausoleums and other sights;
Transport throughout the city tour (1-3 pax 1 sedan car).