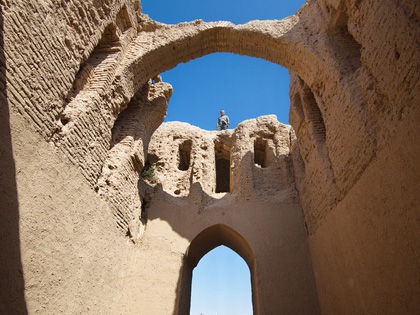 Journey in Termez introduces you to the remote city in the south of Uzbekistan located on the right bank of Amu Darya River, natural border between Uzbekistan and Afghanistan. If you are in Termez take a chance to explore mystical Buddhism history with our city tour. During this tour you will visit archaeological sites of centuries old Buddhist monastery complexes, see impressive Islamic heritage of the region, and enjoy the views of Surkhan Oasis.
Tour itinerary:
Meet your driver and guide at the lobby of your hotel in Termez. Start sightseeing in ancient Buddhist center and one of the oldest cities in Central Asia – Termez. Visit Kokildor-Ota Khanaka, Fortress Kyrk-Kyz – a summer residence of Samani rulers, Sultan Saodat Ensemble, and Zurmala – Buddha's stupa. Continue to Buddhist archaeological sites of Kara-Tepa**, Fayaz-Tepe and Mausoleum of Al-Hakim at-Termezi. Transfer back to the hotel.
Duration of sightseeing tour: 4-5 hours
**Visit to Kara-Tepe is a subject to approval by the State Border Committee.
Price includes:
All transfers: 1-2 pax by 1 sedan type car; 3-6 pax by van;
Sightseeing tour program with a local guide;
Entrance fees to sights as per itinerary.