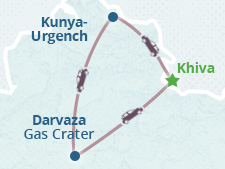 Turkmenistan's borders closed in December 2019 and have yet to reopen. If they remain closed, in lieu of the 3-day visit to Turkmenistan you will visit the Aral Sea in Uzbekistan instead.
If you're planning on traveling to Uzbekistan, extend your travels by adding a trip to Turkmenistan. The Darvaza Gas Crater group tour takes you over the border from Khiva, first to Kunya-Urgench, the site of an amazing architectural reserve and the former capital of the Khorezm Empire, and then to the Darvaza Gas Crater, a natural gas burnoff in the Karakum Desert. Share a night in the desert and a meal cooked over a fire with new friends as you travel with like-minded people from around the world.
If you're travelling alone or just with a few friends or family members, we encourage you to join our Turkmenistan Small Group Tour. This is because travelling as part of a larger group increases the likelihood of you being granted a visa for Turkmenistan.
After camp style breakfast depart to Turkmenistan-Uzbekistan border point Dashoguz-Shavat (370 km, 5 h.). Go through border formalities on both checkpoints. Cross 1.5 km neutral zone (transportation may not be available). Meet your driver and continue to Khiva (60 km, 1 h.). End of the tour.
Meals: breakfast
Price includes:
All transfers;
Sightseeing tour program with an English-speaking guide;
Entrance fees to sights as per itinerary;
Visa support letter for Turkmenistan tourist visa;
Utensils and necessary equipment for staying in tents (sleeping bags, sleeping mats, pillows, dining table, chairs);
Camp style dinner and breakfast at Darvaza crater;
Lunch in Kunya-Urgench
Tour leader to accompany travelers for the whole period of the tour in Turkmenistan.