Armenian Architecture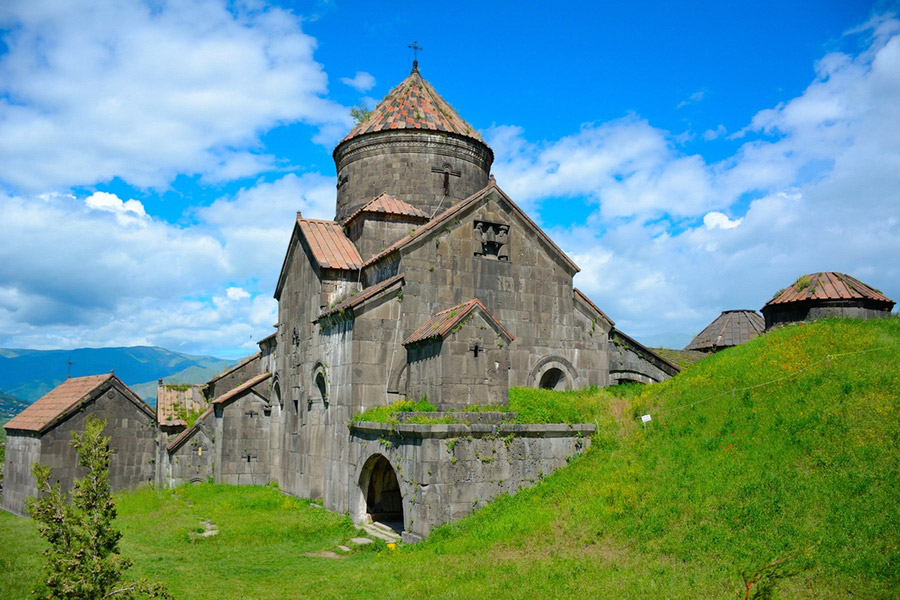 Armenian architecture may be summed up in the nation's nickname, "Country of Stones". True to its reputation, most of the country consists of rugged mountain landscape delineated by sharp peaks and rocky slopes. Apart from stone, most building materials were hard to come by, and with Armenia located in an earthquake-prone region, construction was always carried out with this hazard in mind.
Surrounding by harsh landscape, local architects were forced to adapt to their environment, prompting them to begin creating elaborate constructions from stone. Buildings in Armenia tend to be low-slung and thick-walled in design, particularly religious sites such as churches and monasteries which were built to last for centuries. The stone used for construction was typically quarried on site so that the structure could blend in seamlessly with its environment. If different colored stones were used, they were often arranged in a striped or checkerboard pattern. Meanwhile, residential and other buildings were usually constructed from less durable materials, and consequently few of these structures have survived to our day.
Long before the adoption of Christianity, Armenian architecture boasted of distinctive features. Remnants of Urartian architecture can be seen at Erebuni Fortress, founded by Urartian King Argishti I in 782 BC. Travelers can also explore the Temple of Garni, built in the 1st century AD in a thoroughly Hellenistic style. Also worth visiting are surviving caravanserais, used as lodging by travelers and merchants who made their journey through Armenia along the Great Silk Road.
The earliest Armenian churches were built between the 4th and 7th centuries, with construction beginning when Armenia converted to Christianity and ending with an Arab invasion. The earliest churches were mostly simple basilicas, although some also had side apses. By the 5th century, the typical central cupola cone had become standard, and by the 7th century more complicated styles of Armenian Apostolic Church architecture had formed.
During the Bagratid Dynasty of the 9th to 11th centuries, Armenian church architecture experienced a revival. Ornately carved Armenian cross-stone khachkars were developed at this time and remain symbolic of Armenia to this day. It was during this time that the first large monasteries, including Haghpat Monastery, were built. Another period of growth took place from the 12th to 14th centuries under the Zakarid Dynasty. Unfortunately, the invasion of Tamerlane brought much destruction and hampered architectural progress for the next 250 years.
With the arrival of the Russians in the 19th century, new advancements in Armenian architecture were introduced, most notably the construction of many black and pink tuff masterpieces in Yerevan and Gyumri. One of the most prolific architects in the 20th century was Baghdasar Arzoumanian, the mastermind of many civil and church buildings in Armenia. Some of his most distinctive works are the City Hall of Vanadzor, Erebuni Museum, David of Sassoun metro station and the Degustation Hall at Yerevan Brandy Factory. Another legend of modern Armenian architecture is Alexander Tamanyan, who drafted the first design of modern Yerevan and was instrumental in transforming this small provincial city into the thriving Armenian capital that welcomes travelers today.