Armenian Fine Arts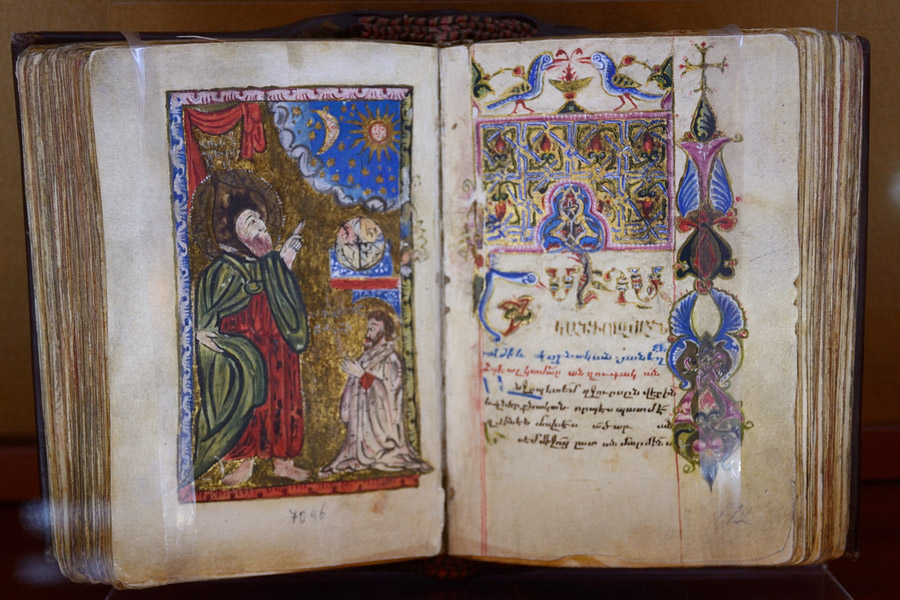 Armenian fine arts have graced the land since iniquity. Some of the earliest traces of Armenian mosaics can be found on the walls of Erebuni Fortress, founded by Urartian King Argishti I in 782 BC. Intricate montages, painted clay jugs and lavish ornamentation have also been uncovered in Garni Temple, which was likely constructed around the 1st century AD.
The Christianization of Armenia brought a seismic shift to the country's fine arts, with the artists' focus realigned toward sacral themes. Excavations of the 4th -6th century Yererouk Basilica indicate that the embellishment of churches with frescoes and ornamentation had developed in Armenia prior to the early Middle Ages. Developing alongside these holy expressions were the practices of iconography and manuscript illustration, with the earliest extant examples of the latter dating to the 5th century.
Today we can admire some of the finest examples of miniature art on the documents stored in the Matenadaran Institute in Yerevan, which contains some 2500 illustrated manuscripts in total. The advent of the printing press gradually replaced hand-painted illustrations with prints and engravings. Books decorated with miniatures became a valuable rarity, and today they may be seen in exhibitions and exclusive collections.
When speaking of Armenian fine arts, the 17th-18th century works of the Hovnatanyan family is worthy of mention. Its founder, Nagash Hovnatanyan, was a renowned poet and painter whose magnum opus was the interior decor of Etchmiadzin Cathedral, which he completed around 1721. Four generations of his descendants went on to become famous painters, poets and miniaturists. One of them, Hakob Hovnatanyan, even has a crater on Mercury named after him. Also called "The Raphael of Tiflis," Hakob was the founder of a modern Armenian painting school and a master of portraiture, his main subjects being princes, the clergy and wealthy citizens.
Toward the end of the 19th century, three significant figures emerged on the Armenian art scene - Vardges Sureniants, Edgar Chahine and Gevorg Bashinjaghian. Sureniants is considered the founder of Armenian historical painting, Chahine brought Armenian art to fame in France and Bashinjaghian had a significant influence on Armenian landscape painting. Around this time, fame was reached by Ivan Konstantinovich Aivazovsky (Hovhannes Aivazian), a Russian painter of Armenian origin whose marine landscapes are exhibited in some of the most famous galleries in the world. Much of his artwork can also be found on postal stamps.
The most significant 20th-century contributor to Armenian fine arts is Martiros Saryan, a painter who excelled at landscapes, portraits and scenes of everyday life and was heavily influenced by the works of Paul Gauguin and Henri Matisse. Today the most extensive collection of Saryan's paintings can be seen in the Martiros Saryan House-Museum in Yerevan.