Armenian Theater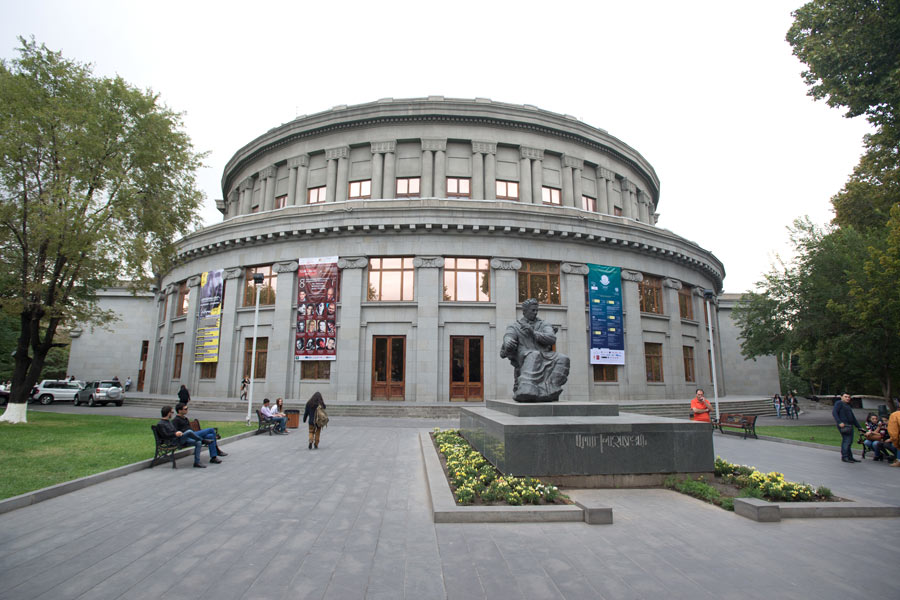 The roots of Armenian theater lie in ancient religious rituals at which professional troubadours (gusans) would perform. According to Plutarch, the first known theater in Armenia was built under Tigran the Great in 69 BC. Tigran's son Artavazd II wrote Greek tragedies, orations and historical commentaries and created the second permanent public theater, which regularly performed the tragedies of Euripides and comedies of Menander.
The growth of Armenian theatrical arts was significantly stunted by the multiple conquests which the land endured through the centuries. Yet a love for theater survived, and rudimentary beginnings gradually evolved into more sophisticated forms of thespianism that encompassed epics, satire and mimes. In 1664, French traveler Jean Chardin wrote a detailed description of a performance he attended at Armenian Mime Theater in Yerevan.
The 19th century saw an intense growth in Armenia's theatrical repertoire, with Armenian drama groups traveling as far as Tbilisi and Constantinople. Perhaps the most significant impetus for this development was the annexation of eastern Armenian by the Russian Empire, which brought eastern Armenians in contact with Russian theatrical culture.
The first modern theatrical groups began to appear in Armenia in the 1820s. Between the 1830s -1850s, new Armenian troupes began performing in Tbilisi, Constantinople and Baku. By the 1920s, Armenian theaters were also operating in Moscow, Kiev, Rostov-in-Don and other cities with significant Armenian populations.
In 1921, a theater named after Gabriel Sundukian, the most significant eastern Armenian playwright of the late 19th century, opened in Yerevan. Sundukyan was the first dramatist to cater to the Armenian middle and lower classes, and his play Pepo remains one of the most widely performed performances in Armenia. As Sundukyan Theater rose to prestige, prominent actors from abroad, including those whose reputations had flourished in western Armenia, flocked to Yerevan to join the project. The theater 's repertoire included Armenian works and translations of classical, European and American plays. In 1928, the theater now known as Gyumri State Drama Theater was founded and Yerevan-Azerbaijan Theater became the first foreign theater in the country.
During Soviet times, Yerevan was the site of Shakespeare festivals and conferences where Othello (1940), Hamlet (1942), A Midsummer Night's Dream (1944) and Twelfth Night (1944) were performed. In 1944, the Yerevan Theatrical Institute (now Yerevan State Institute of Theater and Cinema) was opened, with its directing and acting schools strongly influenced by Moscow directors.
Armenian theater continues to thrive today, with over 20 state and private theaters in Yerevan alone. Among them are Gabriel Sundukyan State Academic Theater (1922), Armenian National Academic Theater of Opera and Ballet (1933), Yerevan State Puppet Theater (1935), Russian Drama Theater (1937) and Yerevan State Pantomime Theater (1974). Most large cities in Armenia also have theaters, and each year the country hosts many theatrical festivals, including the Yerevan International Shakespeare Theater Festival.