Armenian Culture - Folklore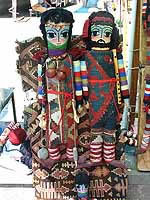 Armenian folklore is extremely rich and various. The ancient myths about the gods dated Hellenistic epoch are considered its basis.
The most known are the myths about death and resurrection of the god Ara the Charming his war with Queen Shamiram (Semiramis), the myth about Khaik and his descendants settling on the territory of Armenia, the myths about Vaagn – Armenian Hercules and epic legends about tsars and struggle against conquerors.
I accordance with ancient Armenian mythology the Pantheon was headed by the father of Gods Aramazd. The following were – Vaagn, the God of War, the God defeating dragons and Goddess Anait – the patron of the country. The Gods Mikhr (Mitra) and Tir in various times were considered the Sun Gods; the latter was also the God of Wisdom and Writing. Other gods were Nane and Astkhik – the Goddess of Love.
Besides the myths about gods and heroes, ancient Armenia had widespread epic legends dedicated to outstanding historical persons - tsars Ervand, Artashes, Nigran, Trdat, Sanatruk and others. The heroic medieval epos "David of Sasun" about the history of several generations struggling for freedom against Arabian yoke is known in many versions. Numerous are the fables, legends, fairy tales, proverbs and riddles.