Armenian Literature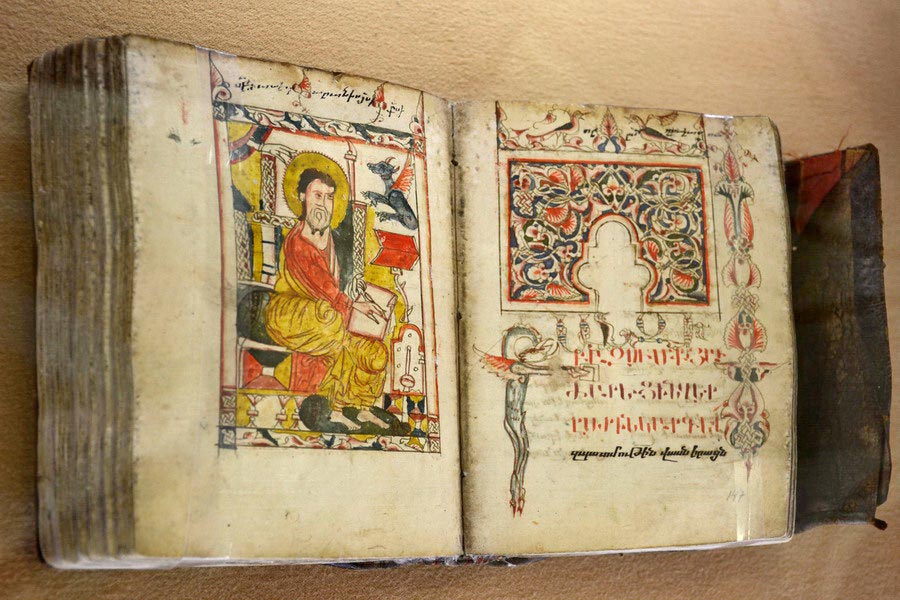 Armenian literature began to take shape in the 5th century AD with the creation of the Armenian alphabet by Mesrop Mashtots, who used the script to translate the Bible into Armenian. Mashtots worked under the tutelage of Isaac the Catholicos of Armenia, the founder of a translation school where students could learn the skills needed to translate the Bible from Syriac and Greek into Armenian.
The unique Armenian script was subsequently used to pen many original works, including "The History of the Armenians" by Movses Khorenatsi, and also prompted the creation of repositories for the storing of these manuscripts. Tragically, centuries of foreign rule hampered the development of local literature, and many Armenian books have been lost through the years.
Oral tradition fared much better, thanks in part to the 16th-century formation of troubadours (known locally as ashugs) who would travel from town to village reciting literature to the people in the Armenian language. The most successful ones, including the 18th-century minstrel Sayat-Nova, even participated in competitions in the royal courts.
New trends seeped into Armenian literature in the 19th century. Young Armenian writers such as Khachatur Abovian began to reject the obsolete classic Armenian dialect, opting instead for modern language variations which popularized their works among a broader audience. It was also during this time that Armenian newspapers became commonplace. Unfortunately, further strides in modern Armenian literature were halted in the early 20th century by the Armenian Genocide.
Armenian literature experienced a limited revival in the mid- 20th century. Although initially stifled by the restrictions placed upon the arts by the Soviet government, the gradual decline of censorship in the 1980s ushered in a new generation of avant-garde and modern Armenian writers and poets. After the country gained independence, a blank canvas for contemporary Armenian literature was granted to modernist authors who continue to express themselves through the written word.